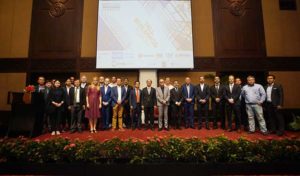 $952 million construction projects approved in Cambodia in first five months of 2022
The Ministry of Land Management, Urban Planning and Construction (MLMUPC) has approved 1,679 construction projects nationwide on 2.2 million square metres at about $952 million in the first five months of this year.
The figure is about 60 percent less than the same period of last year with 1,879 projects at over $2.35 billion on 5.6 million square metres, according to the ministry's figures.
Chhan Sophal, Director General of Construction with MLMUPC, told Khmer Times on the sidelines of Tall Building Forum, organised by EuroCham in Phnom Penh, that the Covid-19 pandemic has been curbing the foreign investment in big construction projects due to travel restrictions.
"The construction of big projects has been curbed slightly because even if our government has fought against the pandemic successfully, some countries have not been successful yet, and the investors weren't able to travel, affecting their investment plans," Sophal said.
However, the Covid-19 has not disturbed smaller projects much. "Construction of residence projects has been still good as the demand for housing is still important, and despite the Covid-19 pandemic, those projects have been going on, and we have been preparing legal frameworks to respond to the status of development," he said.
After the overall recovery in domestic economic activities in most sectors, the land ministry will release more legal frameworks. "Previously, developers submitted a project design to the ministry for review to apply for a construction permit, but some project study teams did not conduct a comprehensive technical assessment, and the applications face obstacles," he said.
Pen Sophal, Secretary of State of MLMUPC, while addressing about 200 participants from the government, chambers and private sector representatives in construction, real estate and financial institutions at the Tall Building Forum, said that Cambodia's urbanisation had grown rapidly with about 4.5 million population in the capital, cities and towns in 2014 and it will increase to nearly 8 million in 2030.
"I would like to call on real estate developers, builders, project designers and construction managers to pay close attention to the spirit of national culture in its architectural works, sustainability, green development in compliance with regulations on urban planning, construction, environment, national identity with Khmer culture, civilisation and the noble tradition of the nation," he said.
Lawrence Lennon, managing director of real estate agency CBRE Cambodia, explained that research conducted by his firm shows that a building that is taller than 18 floors or 69 meters is called a tall building.
Nearly 160 tall buildings — residential, commercial, mixed-use, hospitality and government developed by Cambodia, China, Singapore, Taiwan, South Korea, Japan, Hong Kong and Canada — are expected to complete this year, Lawrence said.
"New investors need to study and understand the market before they come to the ground, but those who are already on the ground actually have tried to push their projects forward," he said, adding that some South Korean, Japanese, Chinese and Cambodian investors are pushing their projects forward.
The cost of construction materials have increased by 20-30 percent, a challenge to investors, who need to revise their plans to delay or cancel their projects, while for investors whose projects have been online need to be much more cost-competitive and change course accordingly, Lawrence added.
"Office market sees a great deal of expansion in terms activities as a lot of new buildings have come online and so the market has become a lot more competitive than it was before Covid-19 … because there have been many new office suppliers in the market," he said.
Construction is forecast to grow by 7.2 percent next year backed by the rising inflow of FDI for construction, while low-and medium price housing projects are expected to improve as the real demand of households, sale-buy-rent activities of high-price properties such as condominiums and apartments are expected to grow amid domestic investment on the rising trend, according to the statement of Cambodian government on
macroeconomic and budget strategies for 2023.
Source: https://www.khmertimeskh.com/501099984/952-million-construction-projects-approved-in-five-months/