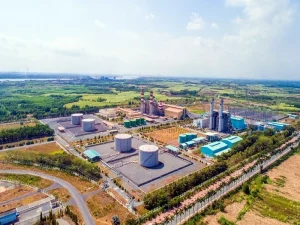 Nhon Trach 3 and Nhon Trach 4 will be the first LNG-fuelled power plants in Vietnam
Project Type – Combined-cycle power plant
Location = Nhon Trach District, Vietnam
Investment – $1.4bn
Capacity – 1.5GW
The Nhon Trach combined-cycle power plant (CCPP) in Vietnam is proposed to be expanded with the addition of two more units, namely Nhon Trach 3 and Nhon Trach 4.
The CCPP is owned by PetroVietnam Power (PV Power), a leading power producer in Vietnam.
The two new units will have a combined capacity of 1.5GW and make Nhon Trach the first power project in the country to be fuelled by liquefied natural gas (LNG).
The total estimated investment in the project is $1.4bn. The two new units are expected to be operational by 2025.
Vietnam is dependent on coal-based power, which accounts for about a third of the country's total electricity production. The project will contribute to Vietnam's commitment to achieving net-zero carbon emissions by 2050.
Location
The Nhon Trach units 3 and 4 will be developed in Ong Keo Industrial Park, Nhon Trach District, in Dong Nai province, Vietnam. The site is located approximately 70km south-east of Ho Chi Minh City.
The two new units will be located on a total area of 34.5ha, with Nhon Trach 3 and Nhon Trach 4 occupying 16.6ha and 17.4ha, respectively.
Nhon Trach 3 and 4 power plants make-up
The Nhon Trach 3 and Nhon Trach 4 power plants will be equipped with GE's 50Hz, 9HA.02 gas turbines fuelled by LNG.
Each power block will also include an STF-D650 steam turbine, W88 generator and Once Through Heat Recovery Steam Generator (OT HRSG) in a 1-1-1 configuration, as well as being equipped with GE's integrated Mark VIe Distributed Control System (DCS).
The OT HRSG technology will enable advanced water-steam cycles for higher combined-cycle efficiency. The Mark VIe control systems are expected to enhance asset visibility, reliability and availability, as well as cut the costs associated with plant operation and maintenance.
LNG supply for Nhon Trach 3 and 4
The LNG required for the project is proposed to be sourced from the Thi Vai LNG terminal, which is currently under construction by PetroVietnam Gas (PV Gas) as part of the Nhon Trach Power Gas Project chain.
The Thi Vai LNG Terminal will have a capacity of one million tonnes per annum (Mtpa) of LNG in phase one, which is expected to be completed by 2022. The terminal will reach a capacity of three Mtpa of LNG under the phase two expansion, which is expected to be completed in 2023.
During the first phase of operation, the terminal will be capable of receiving LNG vessels up to 85,000 deadweight tonnage (DWT). It will be equipped with a 180,000m³ LNG storage tank. The first phase is expected to involve a total investment of $286m.
The terminal is expected to supply up to 1.4 billion m³ of gas to consumers, including Nhon Trach 3 and Nhon Trach 4 power plants, upon completion.
Project financing
The capital required for the development of the two power plants will be sourced through 25% equity and 75% debt.
The loan component of the project financing includes an export credit of $600m, $300m in foreign commercial loans and approximately $174.7m in domestic loans.
A banking consortium comprising Citi (US) and ING (Netherlands) is arranging export credit capital for the development of the two new units.
PV Power signed an extension of the Letter of Authorisation (LOA) with the consortium in February 2020.
Contractors involved
A consortium of South Korean engineering and construction company Samsung C&T and Vietnamese engineering and construction company Lilama received a contract to provide engineering, procurement and construction (EPC) services for Nhon Trach 3 and Nhon Trach 4 in March 2022.
General Electric (GE) was awarded the contract to supply the gas turbines and associated equipment for the project in May 2022.
PV Gas received a contract to supply LNG for the project in 2019.
Source: https://www.power-technology.com/projects/nhon-trach-3-and-4-combined-cycle-power-project-vietnam/