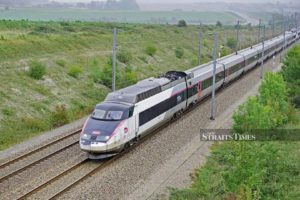 Two subsidiaries of China Railway Construction win civils contracts on China-Thailand high-speed railway in Thailand
Civil engineering work for high-speed train project to improve connectivity
Two subsidiaries of China Railway Construction Corp, the State-owned rail construction contractor, have won a $415 million contract to build civil engineering projects for the China-Thailand high-speed railway, the Beijing-headquartered group said in a statement.
Under the deal, the group's two contractors-China Railway 11 Bureau Group Co Ltd and China Railway 23 Bureau Group Co Ltd-will build construction projects spanning 39.79 kilometers, including railway beds, bridges and railway stations for the first phase of the 250-km-long line linking the Thai capital Bangkok and the northeastern province of Nakhon Ratchasima.
An additional line connects Nakhon Ratchasima to the Thai border at Nong Khai province. A railway bridge linking Nong Khai province with the Laotian capital Vientiane will connect Thai railways with the Laos network. The planned length for this railroad, with a designated speed of 250 km per hour, is 900 kilometers.
Source: http://epaper.chinadaily.com.cn/a/202012/19/WS5fdd2f8aa31099a234352aa7.html