Emails to the Editor – Tactiles
ED – We receive this email and photo…Delhi…Bangkok…could apply to most places in Asia
Subject: Very Helpful
As most of you may be aware, here in Delhi, they are getting ready for the Commonwealth Games – starting early October.
As part of this exercise, Delhi has been turned into one bloody great construction site – as if it weren't a bloody mess already – with the construction of the Stadia and the facilities plus the metros, etc.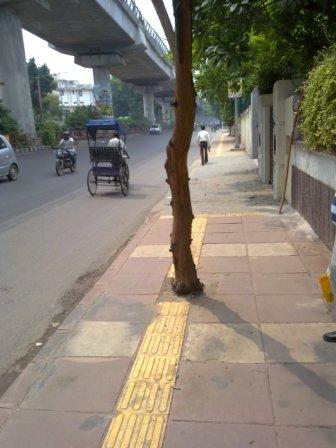 Part of this work has been the 'street beautification' with the ripping up of most of the pavements and the re-laying thereof.
To aid the 'visibly challenged', and very thoughtfully, the authorities have included in most locations, the laying of 'Tactiles' (I think the spelling is correct). You know them – the bright yellow paving tiles with ridges 'embossed' within the pattern, designed to assist those persons with limited visible capabilities.
Whilst out walking on Sunday I took the attached photo, which is just ONE of many examples that I have seen, demonstrating just how much thought, care and attention has been applied to the positioning of these tiles.
I am investing in 'paracetemol' and 'bandage futures'.