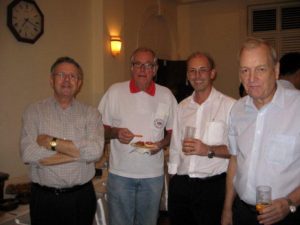 UPDATE – UPDATE – UPDATE
THIS WEEK'S SPET MEETING HAS BEEN POSTPONED
I regret to advise that due to an unexpected overseas commitment our speaker for this week's presentation is not available.
We have therefore decided to postpone the meeting to a future date and consequently this month's meeting is cancelled.
Apologies for any inconvenience this may cause.
Society of Professional Engineers in Thailand (SPET) Monthly Members Meeting for August 2016
SPET Monthly Members Meeting
Thursday 25th August 2016, 6:30pm at the British Club, Soi 18, Silom Road,Bangkok
"Recent Developments in Pipe Jacking" By Ben Hayes
Ben Hayes is currently responsible for the Sales and Project Management of Herrenknecht's utility tunnelling range of equipment in the regions of Malaysia, Singapore, Australia and New Zealand.
Entry fee is Baht 200 for Members of SPET and Baht 400 for all others.
The next SPET monthly meeting TBA will be held on 15th September 2016 to be given by Whessoe & KGAL on Hydro – Mechanical Equipment.
The Committee is always seeking new topics for the Monthly SPET Meetings to ensure a continuous schedule of talks for our Members and guests. If any member can suggest possible technical, professional engineering or other topics that might be of interest please contact Mr. Chris Moore on 081-824-1648.
For this event, please enquire at the reception desk, or email chris AT lasanne.com.
OPEN the flyer, click this link: 2016-08-25 – Ben Hayes-Herrenknecht-1