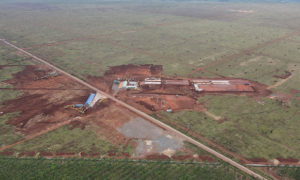 Work on Vietnam's Long Thanh airport stalls, PM wonders if 2025 deadline will be met
Construction of Vietnam's biggest airport at Long Thanh in Dong Nai Province has stopped with groundbreaking, and Prime Minister Pham Minh Chinh is unhappy.
Making an inspection of the site on Feb. 6, he said: "Even the office of the project management board has yet to be built. Can the project be completed within the next four years as planned?"
He called the progress made on this key national project "troublesome."
Work on the Long Thanh International Airport began on Jan. 5 last year after many years of preparations and lengthy land acquisitions.
In the initial phase the developer, the Airports Corporation of Vietnam (ACV), plans to carry out demining, ground leveling and fencing, and build roads leading to the airport, runways, terminals, and ancillary aviation infrastructure.
But a year after the work began, only fencing and demining have been done and even a basic task such as leveling has yet to start.
Lai Xuan Thanh, chairman of the ACV, said after the PM's visit his company has worked with the consultancy to review all works and speed them up.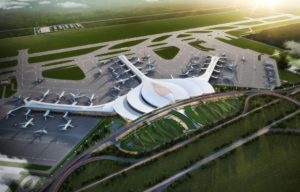 Infrastructure for take-off and landing is planned to be finished by December 2024, and terminals by March 2025.
For an airport the size of Long Thanh, trial operations require three to six months, and so the first phase would be ready for operation no later than September 2025, he promised.
"We have ordered the contractor to speed up the work and level the ground for the terminals in five months and for the runways, taxiways and aprons in 15 months."
Land acquisition has also been delayed and is still going on though it was supposed to be finished by last December.
Of the 2,500 hectares (6,200 acres) required for the first phase, Dong Nai Province authorities have handed over less than 1,500 ha.
Vo Tan Duc, the province's deputy chairman, has assured that the remaining portion would be handed over in the first quarter and the ACV would receive the lands needed for the entire project within three months after that.
In January Thanh had claimed the ACV would build the airport six months earlier than originally scheduled, almost all the land needed for it had been received and construction was on schedule.
The original deadline is December 2025.
Long Thanh, set to replace HCMC's Tan Son Nhat airport as Vietnam's largest when completed, will have an annual capacity of 100 million passengers and five million tons of cargo.
Source: https://e.vnexpress.net/news/news/work-on-long-thanh-airport-stalls-pm-wonders-if-deadline-will-be-met-4427664.html