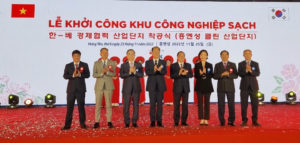 Vietnam to get its first Korean-style industrial complex, in Hung Yen Province
The eco-friendly facility is slated to be completed by 2024 in the northern province of Hung Yen and house 60 companies
A groundbreaking ceremony was held Friday for Vietnam's first Korean-style industrial complex, to be built in the country's northern Hung Yen Province.
Slated for completion in 2024, the eco-friendly facility is expected to help Korean companies seeking to advance into the Vietnamese market.
Some 60 Korean firms are expected to move into the complex, which will span 1.4 million square meters and be built by a consortium led by the state-run Korea Land and Housing (LH) Corp. Korean businesses seeking to enter Vietnam via the complex will be eligible to receive one-stop service there in areas such as administration, taxes and finance.
Attendees at Friday's groundbreaking included Lee Sung-hae, chairman of the Ministry of Land, Infrastructure and Transport's Metropolitan Transport Commission; LH President Lee Han-joon; Korean Ambassador to Vietnam Oh Young-joo; senior Hung Yen provincial leaders Nguyen Huu Nghia and Tran Quoc Van; and officials from Vietnam's Ministry of Construction.
Under a joint venture whereby the Korean consortium owns 75% and the Vietnamese partner TDH Ecoland holds 25%, the complex is expected to be completed by September 2024 on a 1.4 million square meter plot of land in Hung Yen Province, located to the southeast of the capital Hanoi.
The complex's 60 Korean corporate tenants will collectively invest $400 million in its construction and facilities, and in their early stage will receive comprehensive services in areas like administration, finance and tax.
Chairman Lee said at the ceremony, "Construction of a Korean-style industrial complex, a result of bilateral cooperation, is all the more meaningful this year as it marks the 30th anniversary of Korea-Vietnam diplomatic ties," adding: "We hope the facility becomes a platform for Korean companies entering Vietnam and a successful model for bilateral economic cooperation."
After the ceremony, talks were held on resolving difficulties affecting Korean construction companies entering Vietnam. In a meeting with Hanoi Vice Mayor Duong Duc Tuan, Chairman Lee asked for close cooperation in resolving challenges such as LH's delayed license from the Vietnamese capital city for social housing, compensation for Hyundai Engineering & Construction related to delays in the company's work on the city's third subway line, delayed licensing for a new Lotte Mall Hanoi and delayed approval of the Starlake Hanoi apartment complex.
The ministry said LH and its Vietnamese partner TDH Ecoland will sign an agreement Saturday on preliminary work for the second phase of the complex in Hung Yen. It also pledged to support the securing of orders and resolving of difficulties by sending officials to the sites of Hanoi Lotte Mall and Starlake New Town in Hanoi to encourage Korean builders there and hear their grievances.
Source: https://www.kedglobal.com/construction/newsView/ked202211250013