Vietnam gets bids for Dung Quat refinery expansion in Quảng Ngãi Province
Vietnam's Binh Son Refinery (BSR) has received bids for a $1.8bn upgrade and expansion project that will increase capacity at its 145,000 b/d Dung Quat refinery by around 30pc.
Two consortiums, one led by Japan's Hyundai Engineering and Construction and the other by French firm Technip, have submitted bids for the project, BSR said. The work will expand processing capacity to around 190,000 b/d and allow Dung Quat to be more flexible and process different types of crudes.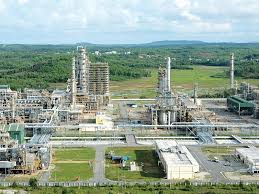 Engineering, procurement and construction (EPC) is expected to begin in August next year. That indicates the expansion will come on line far later than an earlier target of 2021. BSR's plans to expand and upgrade the Dung Quat refinery stalled in late 2016, after a potential Russian investment fell through.
BSR is a unit of state-owned PetroVietnam. Its Dung Quat refinery runs mainly domestic crude as well as some imports such as light sweet US WTI and Azerbaijan BTC.
Dung Quat is one of Vietnam's two refineries, together with the 200,000 b/d Nghi Son plant.
Source:https://www.argusmedia.com/en/news/2148366-vietnam-gets-bids-for-dung-quat-refinery-expansion