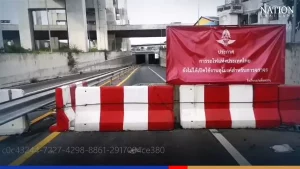 Underpass in Bangkok – a shortcut to the Bang Sue Grand Station – lies unused two years after completion
A traffic underpass built by the State Railway of Thailand (SRT) as a shortcut to the Bang Sue Grand Station has been lying unused for almost two years, due to ownership and maintenance issues.
The one-kilometre-long underpass under the Kamphaeng Phet 6 local road, which links the Wat Samian intersection to the Bang Sue railway station in Bang Sue district, is currently under floodwater and littered with garbage.
The entrance to the underpass is blocked with concrete barriers, while a sign put up by the SRT says the tunnel has not yet been opened for traffic.
The discarded underpass has become the talk of the town among Thai netizens, after a well-known singer, Suthipongse Thatphithakkul, posted a video clip of the tunnel on his YouTube channel on July 31 under the title "Useless Underpass of Bangkok".
Suthigpongse recounted that he was riding his electric monowheel from Wat Samian Naree to Samsen and noticed the unused underpass.
Underpass in Bangkok lies unused two years after completionHe said he was sorry that the budget for the construction was wasted, and hoped the government would soon make it useable.
Earlier, the Transport Ministry clarified that the tunnel was not a main road to the Bang Sue station and no government agency has so far taken over ownership from the SRT, hence it has not been opened for use.
Underpass in Bangkok lies unused two years after completionThe tunnel is located near the Pa Kluay 2 community near the Wat Samian Naree intersection.
Residents of the community said the construction has been completed for almost two years.
They said the tunnel was opened once during the testing period but someone stole the electricity power cables inside, as a result the tunnel was closed pending maintenance.Underpass in Bangkok lies unused two years after completion
Published : August 03, 2022
By : THE NATION
Source: https://www.nationthailand.com/in-focus/40018461