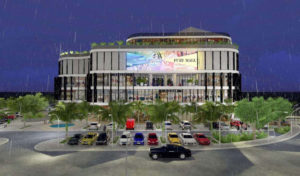 Two shopping malls to open this year in Cambodia's Sihanoukville
Sihanoukville, once a sleepy beach town that has experienced tremendous growth in recent years fueled mostly by Chinese investment, will soon boast two new shopping malls.
Furi Times Square, a $10 million joint venture between Furi Real Estate and investors from Macau and Hong Kong, will open its doors to the public next month.
Speaking to Khmer Times yesterday, Lim Sokhadavin, Furi Real Estate's sales manager, said Furi Times Square is a world-class shopping mall.
"We expect that our mall will be successful. It is the first one where customers will be able to have an international shopping experience," she said.
"Sihanoukville is growing remarkably but it still lacks shopping centres. We aim to be the first ones to cater to tourists and take advantage of the demand for international-standard space in the city."
The mall will have four storeys, occupying 12,000 square metres.
Prince Real Estate Group, a Chinese-run developer in the Kingdom, this week announced it will open a shopping mall before the end of the year.
Called Prince Huan Yu Center, it will feature a wide range of food and beverage and apparel brands, including Adidas, Pedro, Starbucks, and Coach.
Ann Sothida, CBRE director in Cambodia, told Khmer Times yesterday that investment in retail space is expanding rapidly in the city, with developers aiming to capitalise on the growing number of tourists.
"Shopping malls in Sihanoukville are mostly targeting foreign tourists," she said.
According to the latest figures from the Ministry of Tourism, during the first eight months of the year, Cambodia's coast welcomed more than 804,000 foreign tourists, an increase of 36.5 percent compared with the same period last year.
An estimated 80,000 Chinese nationals live in Sihanoukville, with almost 90 percent of hotels, casinos, restaurants and massage parlor there run by Chinese, according to a report from the provincial police published in July.
The report notes that the province has 71 casinos in operation, 48 of which are operated by Chinese. Citizens of China also run at least 150 hotels and guesthouses, 41 KTVs and 46 massage parlours.
From 2016 to August 2019, investment from China in the coastal provinces (Koh Kong, Sihanoukville, and Kampot) amounted to 2.6 billion dollars, representing 11.5 percent of the total investment in the country.
Sihanoukville alone received about $2 billion, accounting for 8.9 percent of total investment, according to the Council for the Development of Cambodia.
Source: https://www.khmertimeskh.com/50655895/two-shopping-malls-to-open-this-year-in-sihanoukville/