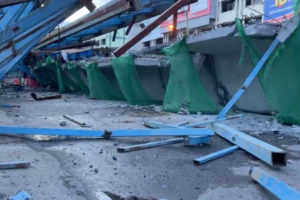 Two killed, 10 hurt as under-construction elevated road collapses in Lat Krabang, Bangkok
Two people died and about ten others were injured when an elevated road section under construction collapsed on Luang Phaeng Road in Bangkok's Lat Krabang district on Monday evening.
An elevated road segment across Wat Polmanee intersection plunged onto the road below at about 6pm.
The 500-metre-long segment is a part of the 2.2-kilometre-long Onnut-Lat Krabang elevated road project ordered by the Bangkok Metropolitan Administration.
The collapse site stretched from a Lotus's Lat Krabang branch to Jorakay Noi police station.
An initial investigation found that a crane that was lifting the four-lane concrete road segment overturned, leaving the section to hurtle down to the ground.
The segment crushed vehicles on the road below, while several steel structures also hit roadside commercial buildings.
Two victims were killed instantly inside their vehicle.
The section of Luang Phaeng Road was closed to traffic, while the accident also caused a blackout in the locality.
See video: https://www.facebook.com/watch/?v=249510367821539
Source: https://www.bangkokpost.com/thailand/general/2609423/2-killed-10-hurt-as-elevated-road-collapses-in-bangkok