The Transport Ministry on Thursday set in motion the first railway investment project with a construction plan tentatively set for a September launch.
The preliminary timetable is included in the roadmap of the railway investment project and unveiled by Transport Minister Prajin Juntong, as Thailand prepares for a series of meetings on the massive infrastructure plan beginning this month.
China was awarded the first 350-billion-baht project in December to build two dual-track lines of the 1.435 metre standard gauge from Nong Khai to the Map Ta Phut Industrial Estate via Kaeng Khoi district in Saraburi and from Kaeng Khoi to Bangkok. The total distance is 873 kilometres.
The construction plan is divided into four sectors. The first section is from Bangkok to Kaeng Khoi totaling 133km. The second sector of 246km is from Kaeng Khoi to Map Ta Phut. The third section running 138km is from Kaeng Khoi to Nakhon Ratchasima. The fourth sector covering 355km starts in Nakhon Ratchasima and ends in Nong Khai.
ACM Prajin said construction of the first two sections could begin in September and would be ready for service in December 2017. Construction on the third and fourth sectors would begin in December this year and be completed in March 2018.
The project is split into four sectors to speed up the work, he added.
Details of the plan and other issues will be thrashed out in talks between Thai and Chinese officials beginning this month.
The officials will meet for the first time on Jan 20 and 21 in a joint steering committee after signing the train agreement in December in Bangkok. The committee will centre on plans to survey the route and related studies.
Deputy Transport Minister Arkhom Termpittayapaisith said the new lines would mostly run parallel to the present tracks to save on construction costs.
The second meeting on Feb 5 and 7 will focus on financial and investment issues.
Mr Arkhom said the form of investments remained open, including an option on a joint investment with China, the setting up of an infrastructure fund, a state budget and a plan to mobilise money from the Stock Exchange of Thailand.
One clear condition is that Thailand will take full responsibility for train services, he added.
Officials are now collecting information on Thai construction firms which could join the lucrative project.
The partnership between Thai and Chinese companies will be concluded for approval in the third round of meetings scheduled for Feb 25-27, according to ACM Prajin.
The new tracks will double train speed to 160km per hour and are part of the plan to project Thailand as a transport hub in Southeast Asia.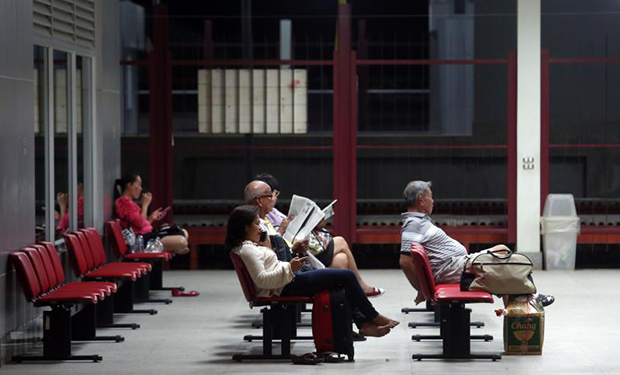 Passengers wait quietly at Bang Bamru station. In a couple of years they will have the luxury of faster and more comfortable trains to choose from. (Photo by Pattarachai Prechapanich)
Source: http://www.bangkokpost.com/news/transport/457067/train-construction-in-sept-prajin