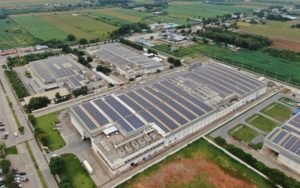 TotalEnergies completes 25-MWp Thai rooftop solar project
TotalEnergies has finished building a 25-MWp solar power system on top of 24 facilities in Thailand of local agro-industrial and food businesses group Betagro.
The rooftop solar arrays consist of over 62,000 photovoltaic (PV) modules that were installed within six months. They can produce an estimated 38 GWh of electricity a year, which is enough to meet around 10% of the customer's annual power needs. In this way, it will also offset the emission of 26,000 tonnes of carbon dioxide (CO2) per year.
TotalEnergies said it has provided all the capital investment for the project. It will serve Betagro under a corporate power purchase agreement (PPA) with a term of 20 years.
According to the developer, this is one of the largest corporate solar portfolios in Southeast Asia.
Source: https://renewablesnow.com/news/totalenergies-completes-25-mwp-thai-rooftop-solar-project-743446/