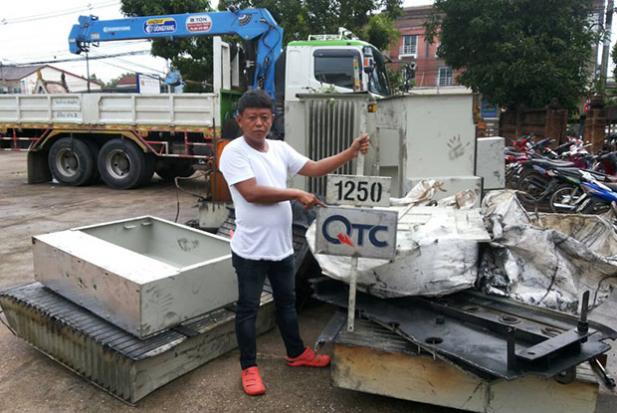 Some of the recovered machinery and equipment stolen from the Anyanee (Hua Wa) Co's solar pl;ant, at Si Maho Phot police station in Prachinburi on Monday morning, along with one of the crane trucks. (Photo by Manit Sanubboon)
PRACHIN BURI – Police have tracked down two crane trucks used by a gang to strip a solar power plant of most of its equipment on Friday morning and recovered some of the stolen goods.
At least 10 thieves were involved in the heist, police said.  They broke into Anyanee (Hua Wa) Co in Si Maha Phot district and overpowered and tied up the two security guards. The gang then brought in two crane trucks, a six-wheel truck and a pickup truck and loaded them with the equipment from the plant.
They took two large electricity convertors, a large amount of electrical wire, two computer sets, a server for the security camera system and two mobile phones. The total value of the stolen goods was estimated at 10 million baht.
The company had finished installing the equipment at the plant, but had yet to begin producing electricity.
The police investigators reviewing security footage from the  plant on Monday morning found images of the gang and their vehicles, Pol Col Narat Rattanajinda, superintendent of Si Maha Phot police, said.
They tracked the  two trucks to a company in tamban Nong Ki of Kabinburi district in Prachin Buri, where they also found some of the stolen goods.
One of the electrical convertors had been dissembled for sale of the metal to recycling shops. All recovered goods were seized and taken to Si Maho Phot police station pending further investigation.
Pol Col Narat said a large amount of electrical wire had been sold for 530,000 baht and the seller told the buyer he had more and would bring it to the shop. When the buyer asked for a copy of the seller's ID card he refused to give it.
The police are now seeking arrest warrants for the whole gang.
One person has been arrested. Anuphap Ithisakul told police that he was hired by the owner of the two crane trucks, Orasa Netthanom and Amnart Thunmuang, to transport the stolen goods from Anyanee's solar plant.
Police were still investigating, but suspected the robbery was motivated by a conflict within the company.
Source: http://www.bangkokpost.com/news/general/718664/thieves-strip-solar-energy-plant-of-b10m-equipment