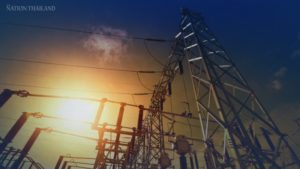 Thailand's Provincial Electricity Authority powers 12 Eastern Economic Corridor projects worth nearly Bt50 billion
By THE NATION
The Provincial Electricity Authority (PEA) has earmarked nearly Bt50 billion for 12 electricity projects in the Eastern Economic Corridor (EEC), said Sekson Sermpong, deputy governor for planning and power system development.
"The EEC is a high potential area with 32 industrial estates, more than 5,000 factories, two of Thailand's largest industrial ports and Asia's fifth largest petrochemical centre, all of which require stable electricity supply and therefore makes the PEA's investment necessary in helping industrial development move forward," he said.
"One of the key projects is the development of a smart grid system in Pattaya City, which should be complete next year. This project will be a pilot in developing smart grids for the entire EEC area."
Other notable projects, apart from the construction of substations and powerline networks to strengthen electricity stability in the area, are the construction of charging stations for electric vehicles and clean energy for industrial estates.
"The PEA aims to increase the use of clean energy in the EEC by up to 30 per cent, most of which will be solar energy, while the remaining 70 per cent will still come from fossil fuels, as the ratio of clean energy is one of the factors foreign companies will consider before investing in the area," Sekson said.
"So the PEA has earmarked Bt23 billion, or about half of its EEC investment budget, for the construction of a solar power plant, which aims to supply at least 500 megawatts of electricity to industrial factories there," he said.
"Next, the PEA will conduct a survey on electricity usage and prepare for an increased load in the EEC until the year 2024, as well as start the procurement of alternative renewable energy using our storage system to ensure the EEC is a low carbon emission area and ready for establishment of future cities," Sekson said.
"PEA subsidiary PEA Encom International will be responsible for this project," he added.
Source: https://www.nationthailand.com/news/30395750