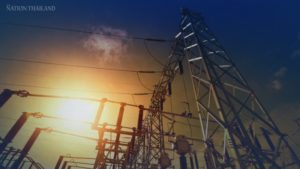 Thailand's Provincial Electricity Authority allots B253bn for projects over 10 years
The Provincial Electricity Authority (PEA), a state power distribution arm, plans to allocate capital spending worth 253 billion baht for a range of projects from smart meters to electric vehicles (EVs) over the next 10 years to help the government achieve its carbon neutrality target in 2050.
During the 26th UN Climate Change Conference in Glasgow late last year Prime Minister Prayut Chan-o-cha pledged Thailand will step up efforts to strike a balance between carbon dioxide emissions and absorption by 2050.
PEA projects include a demand response and energy management system (44 billion baht), a micro-grid and prosumer project (20.6 billion baht), energy storage system (103 billion baht), EV charging infrastructure (2.8 billion baht) and grid modernisation (82.5 billion baht).
The first tranche of the budget worth 8 billion baht was already approved by the Office of the National Economic and Social Development Council, said Supachai Ek-Un, governor of the PEA.
This money is allocated for the demand response and energy management system project that installs smart meters in Pattaya City to help households better manage electricity consumption and reduce power bills.
The PEA has installed up to 100,000 meters and plans to add 50,000 meters next year.
Meters are slated for installation in other areas in Chon Buri, Rayong and Chachoengsao that form the Eastern Economic Corridor (EEC).
The government wants to turn the EEC into Thailand's high-tech industrial hub, with a carbon-free industrial zone project also in the pipeline.
Smart meters allow people to monitor electricity consumption on mobile phones and the system can immediately inform the PEA when electricity problems occur.
Mr Supachai said the PEA plans to push ahead with its EV project, believing this industry in Thailand will grow rapidly, driven by soaring oil prices.
The PEA divided its EV project into two phases. First is expansion of its network of EV charging facilities nationwide, then second is traffic management for EVs using its infrastructure.
Other key projects supported by the 10-year capital spending budget include the development of an energy storage system to solve intermittent electricity output from renewable sources.
Source: https://www.bangkokpost.com/business/2299010/pea-allots-b253bn-for-projects-over-10-years