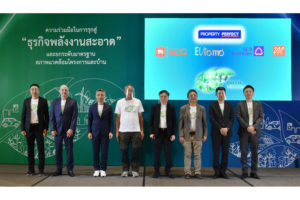 Thailand's Property Perfect enters clean energy business
Property Perfect joins hands with partners to enter clean energy business and upgrade garden in projects and houses with world-class garden concept
As the use of clean energy is becoming a new normal in residences, Property Perfect expands into business related to the use of clean energy by partnering with "SCG Roofing, EVLOMO Technologies and SCB" to enter the business of solar rooftops and EV chargers at home together, starting with installation at residential units in the projects and expanding to those interested both in the projects and neighbouring communities.
Wongsakorn Prasitvipat, Managing Director of Property Perfect Public Company Limited, says, "The use of clean energy tends to grow exponentially, driven by both demand of consumers who are interested in using more clean energy and the government's policy to promote. It is a good opportunity for the company to expand into business related to clean energy, which is 'Solar rooftop and EV charger homebox' to meet customer needs, to drive the use of clean energy together, and to upgrade living standards to be an energy-saving community with sustainable environment."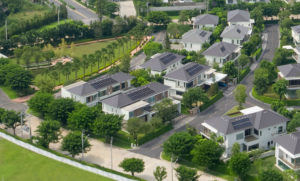 "The company has partnered with SCG Roofing Co., Ltd. to tap the solar rooftop market and install solar rooftop power generation systems; and joined EVLOMO Technologies Co., Ltd. to install EV chargers at home, starting with new single detached houses in projects under the 'Perfect Masterpiece' and 'Lake Legend' brands. We aim to expand to general customers including both Property Perfect's housing projects, neighbouring communities and affiliates under the group. At the same time, the company has cooperated with Siam Commercial Bank Public Company Limited to provide a special financial offer to those interested to install. Within 5 years, the company targets to install solar rooftops at 30,000 houses and EV chargers at 50,000 houses which will help reduce CO2 emissions by up to 1 million tons."
Additionally, the company has partnered with "Nongnooch Garden" which is ranked one of the top 10 most beautiful gardens in the world. This will be the first time that the world-class elegant garden concept is applied to design gardens in units at projects under the brand "Perfect Masterpiece" and lakeside gardens in common areas at "Lake Resort New Ratchapruek" –a new chapter of green space design in projects and houses.
Thongchai Sopon, Head of Housing Products Business, SCG Roofing Co., Ltd. discloses that, "Solar power generation in overall has a lot of potential for growth. Besides consumption of environmentally friendly energy, a key factor is also a value for money from electricity bill saving of up to 60%. Moreover, solar panel prices today drop to a point worth an investment. This can promote the household sector to install solar rooftop systems with a breakeven point in a shorter period of time. For Property Perfect, besides choosing SCG Green Choice which is environmentally friendly and SCG's living innovations which is energy-saving, the partnership is also a part to drive a widespread use of clean energy and to meet residential demand in line with a change in consumer behaviour which includes more work from home or houses with EV chargers which are charged during daytime with solar roof system which is safe and beautiful together with standard care from SCG."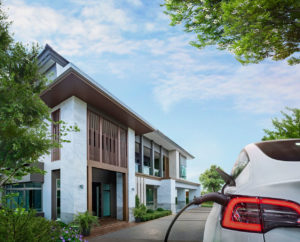 Nicole Wu, Chief Executive Officer of EVLOMO Technologies Inc, a leading EV firm from the US, discloses that, "Besides installation of EV chargers at homes at Property Perfect's projects, this partnership includes a co-marketing to enter business of EV chargers at home to build a new customer base. In general, more than 80% of EV charging occurs at home. EVLOMO introduces EVLOMO ELO Series, an intelligent charger which offers the advantages of dust and water protection. It is safe and able to connect to 4G and Wi-Fi for remote charging. It also supports both Thai and English to be displayed on the screen. EVLOMO also raises the standard of super-fast charging which is necessary in the use of EV in Thailand and expands a network of EV charging stations nationwide for convenience at home and in communities."
Sutirapan Sakkawatra, First Executive Vice President Marketing Funcion, Siam Commercial Bank Public Company Limited, says, "The clean energy business is in line with SCB's goal of encouraging businesses and customers to move towards a low-carbon economy and society. Connections with potential partners in various industries is the bank's key strategy. We are very proud to be given the opportunity from Property Perfect to join the partnership to promote clean energy with special financial offers such as Green Finance provided to customers of Property Perfect. It is a home loan with special interest rates together with a solar roof loan with interest rates at the same rate as a home loan."
Kampol Tansajja, President of Nongnooch Pattaya Garden, discloses that, "Gardening in the common area at 'Lake Resort Ratchapruek' project, will focus on a Thai-style garden as Property Perfect aims it to be like a resort. It will select tropical plants that have beautiful shapes and are easy for maintenance but provide maximum usability as well as valuable plants for garden design in residential units at 'Perfect Masterpiece', a large-sized single detached house with a large space of garden. It will focus on beauty in every angle by arranging the trees in a borrowed view which also benefits neighbouring homes. The trees will be mature trees aged 100 years and above which is a popular trend today."
Source: https://www.bangkokpost.com/thailand/pr/2288818/property-perfect-enters-clean-energy-business