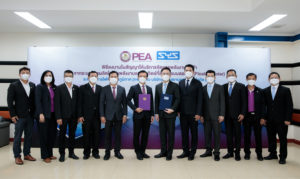 Siam Yamato Steel signs contract with Thailand's Provincial Electricity Authority to manage floating solar-generated electric power
"Turning Water to Clean Energy, Combatting Global Warming" concept reaffirms SYS as a Thai steel manufacturer with Green Heart
The Provincial Electricity Authority (PEA), represented by Mr. Sompong Dumrongongtragool, Deputy Governor (Business and Marketing), and Siam Yamato Steel Co., Ltd. (SYS), represented by Mr. Jaydsada Plungmanee, Managing Director, have agreed a contract for electric power management generated by a Floating Solar System.
The contract signing at Huai Pong Factory's meeting room, Siam Yamato Steel Company Limited, WHA Eastern Industrial Estate (Map Ta Phut), Rayong Province, was witnessed by Mr. Weerapong Duangpiboon, Assistant Director of the Office of Map Ta Phut Industrial Port.
The electric power management by Floating Solar system project is a collaboration between PEA and the Industrial Estate Authority of Thailand (IEAT) with the aim to increase energy efficiency in the industrial estate.
Under the contract, PEA will install a floating solar power generator at a reservoir operated by IEAT in Smart Park Industrial Estate, Rayong Province.
IEAT has selected SYS factories at Map Ta Phut Industrial Estate and WHA Eastern Industrial Estate for a pilot project applying electric power generation technology from renewable energy coupled with a power measurement system.
Besides increasing electric power efficiency, the cost-effective solution reduces manufacturing costs while driving environmental improvement and renewable energy management.
"The PEA will be responsible for the survey, design, installation and maintenance of the Floating Solar power generators in the IEAT reservoir area with at least 11,984 kilowatts (kWp) capacity throughout the duration of the contract," revealed Mr. Sompong. "This project utilises a digital platform to manage energy in the industrial sector and markedly reduces electricity cost consistent with IEAT's core Green Heart, community-friendly and sustainable ecosystem support policy."
"SYS is proud to be selected as the first company in the industrial estate to participate in this project," commented Mr. Jaydsada Plungmanee, Managing Director, Siam Yamato Steel Co., Ltd., (SYS), a manufacturer of hot rolled structural steel for over 25 years. "SYS factories use electricity as the main power supply for producing structural steel products to domestic and international standards. As such, efficient electric power management is crucial while at the same time replacing fossil fuels with renewable energies."
"This floating solar project offers clean energy power generation that helps reduce depletion of the world's limited resources. It also reduces greenhouse gas emissions and manufacturing costs. This is all in line with Siam Yamato's policy of harmonising with sustainable resources and energy consumption, thereby reaffirming its business philosophy of being a Thai steel manufacturer with Green Heart."
For more information, please visit the SYS website at www.syssteel.com
Contact SYS
Email: sys@syssteel.com
FB: @syssteel
Line OA: @syssteel.com
Source: https://www.bangkokpost.com/business/2334728/sys-signs-contract-with-pea-to-manage-floating-solar-generated-electric-power