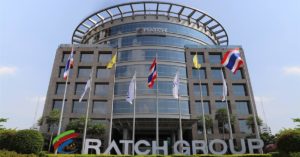 Thailand's largest private power generation Ratch Group diversifying into locomotives
Ratch Group, Thailand's largest private power generation firm by capacity, says it will diversify into locomotive assembly to serve future demand from various infrastructure projects.
The move is in partnership with AMR Asia, a local railway engineering developer, that is conducting a feasibility study on the business, with results expected early next year.
Ratch chief executive Kijja Sripatthangkura said Thailand has the potential to be a hub for locomotive manufacturing as there is ready demand and available human resources.
He said new demand for locomotives will likely come from the development of electric train lines in Bangkok as well as regional railroads and interconnecting trains around the country.
"The business model and capital expenditure for the project as well as details will be in the feasibility study," Mr Kijja said.
Ratch is also in a joint venture to develop and operate two electric train lines, the Pink and Yellow routes, worth a combined 105 billion baht for a combined length of 65 kilometres.
These trains will operate under BSR Consortium Group that includes BTS Group Holdings, Sino-Thai Engineering and Construction, and Ratch. The train lines are under construction and are scheduled to commence operation next year.
The two train lines have already purchased 40 locomotive cars from Canadian producer Bombardier.
Ratch plans to complete three more asset acquisition deals this year after already making two such deals in the first quarter.
The first was a 49% stake in gas-fired Nexif Energy Rayong from NER Singapore Pte worth US$21 million (662 million baht) with 92 megawatts capacity.
The second deal was to acquire 40% of gas-fired REN Korat Energy worth 2.18 billion baht with 40MW capacity.
Mr Kijja said the remaining three deals are related to electricity generation and are in negotiation.
He said the company allocated a budget of 10 billion baht for the five deals to achieve 780MW of additional capacity this year for a total of 8,715MW. The aim is to reach 10,000MW of capacity by 2023.
Ratch also teamed up with Navanakorn Co, ALT Telecom, Thammasat University and Harvard University to conduct a feasibility study of a smart district, dubbed District 9, which includes Thammasat University's Rangsit Campus and Nava Nakorn Industrial Zone, AIT University and the National Science and Technology Development Agency's Science Park in Rangsit.
The pilot project is to develop a smart city powered by a range of sources, from fossil fuels to solar, to meet the large demand from a high-density population.
The smart system aims to balance local supply and demand of electricity to guarantee maximum utilisation.
The area suggested has an estimated population of over 100,000 people.
Ratch reported an 11% increase in revenue in the first quarter from the same period last year to 4.51 billion baht from 4.04 billion as a result of a new power plant added to operations.
Net profit dropped 21% year-on-year to 1.36 billion baht because of baht appreciation.
Excluding foreign exchange losses, net profit rose 38% from the same period last year to 1.98 billion baht.
Source: https://www.bangkokpost.com/business/1918308/ratch-diversifying-into-locomotives