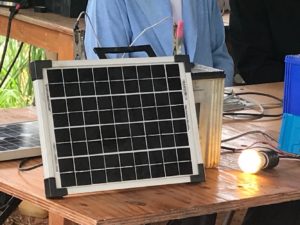 Thai village without electricity for 60 years receives power from solar energy
A community in Prachuap Khiri Khan, bereft of access to the grid, used solar panels to electrify villages
23 October 2019
As recently as six years ago, the 400 households in Ban Wang Won Chonprathan in Prachuap Khiri Khan province, went dark at sundown, as the village was not connected to the grid.
These households are located on land in Nong Ta Tam subdistrict owned by the Treasury Department and overseen by the Thanarat Infantry Camp, where electricity poles or grids installed to provide electricity to households are not permitted.
Villagers in Ban Wang Won struggled for over 60 years to receive electricity, but were unsuccessful as they do not have land ownership documents.
In 2014, the issue was raised with the Tambon Nong Ta Tam Administration, in Pran Buri district, and a project called a "self-reliant solar energy community" was initiated to set up solar energy infrastructure to provide electricity at low cost.
Before the project's implementation, the administration analysed the problem and then created a conceptual framework as a guideline for operations based on the needs of the people. The sufficiency economy philosophy was adapted to encourage moderate, reasonable and informed habits among people.
The project equips villagers with technical skills, allowing them to learn how to generate electricity from solar energy, use solar panels correctly and fix solar panels when they are damaged or broken.
The community also established a revolving fund to support villagers who buy solar cell equipment, which can reduce carbon monoxide and dioxide emissions. As of June 9, the revolving fund had 125,000 baht.
The area has 12 villages, spread out across an expanse of hilly topography interspersed with basins. Agriculture is the primary occupation, with villagers usually planting cash crops such as pineapple, coconut and rubber trees.
The self-reliant solar energy community scheme recently won a UN Public Service Award 2019 in the effective and responsible public institutions category.
The initiative provides 100% of households in the subdistrict with low-cost solar energy, including learning centres with community technicians and provides a revolving fund to purchase solar energy equipment. The outcomes include knowledge of solar energy, environmental sustainability and CO2 reduction.
Solar energy not only improves the living standards of villagers but also lowers monthly electric costs.
Areephan Charoensook, deputy secretary-general of the Office of the Public Sector Development Commission (OPDC), said solar cells should be installed in remote areas that do not have access to basic electricity.
There are many communities that have yet to gain access to electricity, mostly located in mountainous and remote areas far from electric grids.
OPDC works to strengthen communities by creating engagement with state agencies in rural areas.
Chumpol Mhuem-uam, chief of the learning centre at Nong Ta Tam, said the community has 30 technicians in place, sufficient to service 400 families.
"We are proud our community can manage power generation independently. We are a self-reliant power producer," said Mr Chumpol.
Cherd Yodchalaem, deputy chief of the Tambon Nong Ta Tam Administration, said solar cells help provide basic electricity for the community, noting in the past many houses caught fire due to the dependence on candles and oil lamps.
He said the community took more than 10 years to learn how to install, repair, maintain and use the solar electricity generating system.
Energy Minister Sontirat Sontijirawong said solar cell rooftops are appropriate for households in remote and mountainous areas where electric grids have not been installed.
He admitted the government's existing solar rooftop incentives remain unattractive and have not resulted in many Thais installing solar cells, with the high cost of solar panels proving to be another obstacle.
The government is considering increasing the power tariff from 1.68 baht per kilowatt-hour (unit) for the household solar rooftop scheme.
The household solar power generation scheme is part of the 2018-37 Power Development Plan, which targets an increase in power generation from renewable sources to 20,776MW within two decades — half from solar panels.
The scheme has only managed to generate about 20MW, far below the 2019 target of 100MW.
Source: https://www.bangkokpost.com/business/1778199/filling-in-the-power-gaps-with-independent-energy