Thailand's Energy sector ploughs ahead
Renewable power, the phasing out of fossil fuels, bureaucratic overhaul at Egat and a gradual shift to electric vehicles are on the horizon
Unlike some reforms in Thailand that face hurdles because of political power plays among authorities, changes in the energy industry have no excuse for delay.
With the rapid growth of renewable energy, the phasing out of fossil fuel-based electricity generation is unavoidable. The role of state-run Electricity Generating Authority of Thailand (Egat) as the sole electricity vendor is also poised to change.
Renewable energy is almost competitive with fossil fuel-based power generation, while energy storage system (ESS) technology, which helps store electricity produced by such power sources as the sun, is also making steady progress.
One factor lowering the price of ESS is fast-growing demand for electrical vehicles (EVs) in many developed countries.
Some nations announced zero carbon emission campaigns in the transport sector and intend to reach the goal between 2020 and 2060, a move that will cause a shift from petrol-powered cars to EVs.
In Thailand the EV market is gradually taking shape following support from the government. Within a decade, internal combustion engines will face significant competition as motorists increasingly abandon these types of cars, said Danucha Pichayanan, secretary-general of the National Economic and Social Development Council.
He said new industries targeted for the Eastern Economic Corridor (EEC) should fuel demand for electricity, with a major power source in the post-pandemic period renewable energy, following the direction set at the 2015 UN Climate Change Conference (COP21).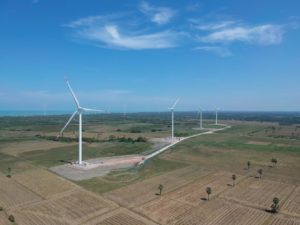 Clean age
Some infrastructure in the EEC is being designed to rely on renewable energy, with state-run Provincial Electricity Authority (PEA) selected to help complete the mission.
On Dec 14 last year, PEA announced its wholly owned PEA Encom International Co formed a joint venture with SPCG Plc, a pioneer in solar farm development, to set up solar farms in the EEC, with combined capacity of 500 megawatts.
This photovoltaic power system will not be given a feed-in tariff, which is a state guarantee to buy electricity from renewable power plants at fixed prices for a certain period.
SPCG chief executive Wandee Khunchornyakong Juljarern said these are Thailand's first on-grid solar farms without a subsidy from the government.
The cost of the solar farms is set at 23 billion baht.
The joint venture expects to produce 300MW by the fourth quarter this year, with the remaining 200MW by 2025.
Ms Wandee said though return on investment is estimated in the single digits, it is worth the investment in the long term.
The solar panels are based on Japanese technology that sees only a 1% drop in efficiency after 10 years of usage, compared with other brands that have an 8-9% decrease over the same period.
She believes better technology and more competitive costs for solar panels and batteries will enable renewable energy to replace fossil fuel-based energy.
Liquefied natural gas (LNG), considered to be cleaner than other fossil fuels, may not be the best choice because natural gas are dwindling in the Gulf of Thailand, said Ms Wandee.
The government is expected to play a greater role in promoting renewable energy as many countries are planning to impose emission taxes on cars to encourage motorists to use cleaner fuels and engines, following commitments made at COP21, she said.
New power trade
Change is coming to electricity bills as the Energy Regulatory Commission (ERC) is planning to revise the high base tariff and is studying ways to liberalise the power industry to allow energy firms to compete with Egat, a move that should eventually lead to a lower financial burden for households.
The base tariff, which indicates costs of power plants and distribution systems, is used to calculate monthly power bills for households and is revised every 5-6 years.
ERC secretary-general Khomgrich Tantravanich said state power agencies will be asked to brainstorm a new base tariff, which was last adjusted in 2015.
The rate is determined by various factors, including modern technologies for renewable energy development and ESS, as well as EV promotion and private power purchase agreements.
Mr Khomgrich said the brainstorming session will begin once a study to reduce power bills through better management of return on invested capital (ROIC) in the state grid business is completed.
ROIC reflects how effectively an organisation spends its invested capital to make a profit.
ERC is also planning to conduct another study on a change to the enhanced single buyer (ESB) model, which only allows Egat, a power producer and buyer, to sell electricity.
This move is in part a response to a call from the Energy Reform for Sustainability group for the government to consider energy trade reform.
The group, which comprises energy analysts from state and private agencies, said using the ESB model for an extended period will reduce Thailand's power management efficiency.
More competition in power trade can cut power bills and solve oversupply in the national power reserve.
Mr Khomgrich said ESB should not be used for the long term because several hundred firms are installing rooftop solar panels on their buildings and factories for their own use under the independent power supply (IPS) model.
The IPS model, also called "behind the meter", produced combined power generation capacity of 9,000MW as of September last year.
The electricity was generated from solar cells, biomass and biogas.
He said a free market for power trade should be established together with ongoing measures to decentralise the LNG business, allowing power companies to import LNG.
Change from within
The fast-changing energy industry is prompting Egat to revamp its decades-old bureaucratic system in order to be more agile.
The effort was initiated by its newly appointed governor, Boonyanit Wongrukmit, who stressed Egat should not be hindered by tradition and burdensome regulations.
Egat was previously scheduled to be privatised in 2005, but the plan was scrapped following a ruling by the Supreme Administration Court that year.
However, the agency needs a new working style to make decisions faster as it has to deal with a range of issues including new renewable energy technologies, peer-to-peer power trade and businesses ventures it is planning, he said.
Egat diversified into natural gas after receiving an LNG shipping licence.
In the next few years, it is required to develop LNG infrastructure with a floating storage re-gasification unit in the Gulf of Thailand as well as prepare for gas production in the long term.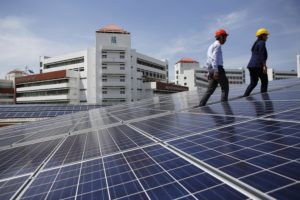 While introducing himself to Egat officers last month, Mr Boonyanit not only outlined the agency's business plans, he also gave weight to how everyone can translate the plans into action smoothly.
Gaps between Egat officers must be narrowed to pave the way for closer communication and team work, he said.
This is among the important tasks Mr Boonyanit vowed to complete before his retirement in 33 months.
The new governor encouraged officers to call one another by nicknames, not positions, to create an informal atmosphere he believes should lead to a free flow of new ideas among colleagues.
This working style will eventually benefit Egat as it deals with changes facing the energy industry, said Mr Boonyanit.
Source: https://www.bangkokpost.com/business/2048915/energy-sector-ploughs-ahead