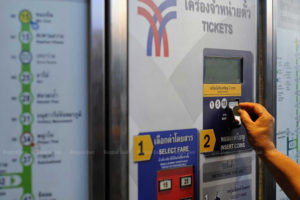 Thailand's Department of Rail Transport mulls ways to cap train fares at 20 baht per trip on Bangkok's electric train network
The Department of Rail Transport has started to look into ways to implement the promise by the Pheu Thai-led coalition to cap fares on Bangkok's electric train network to a flat rate of 20 baht per trip, a source in the department said on Monday.
The findings, the source said, will be submitted to the new administration once it takes office.
According to the source, the department is currently exploring two scenarios — the first will see a flat fare of 20 baht per trip applied only to low-income earners who hold a state welfare card. The second scenario, meanwhile, will see the flat fare applied to all passengers using the capital's electric train network.
The first scenario would be cheaper to implement, as the government will only have to subsidise trips made by state welfare card holders. At present, 31,019 welfare cardholders use the city's electric trains for their daily commute — once the fares are capped at 20 baht, the number is expected to rise to about 34,000 per day.
For this scenario to work, the government will have to chip in about 35 baht per ride, which comes up to 52,190 baht per day, or 307.9 million baht per year, the source said.
The second scenario will be more expensive to carry out, as the government will have to provide a subsidy to more passengers. At 17.47 baht per ride, the government will have to come up with 16.5 million baht in subsidies per day, or 5.44 billion baht per year, to keep fares at 20 baht, said the source.
Capping fares at 20 baht for everyone, however, will result in a significant jump in the number of electric train users per day — the source said the number of riders will jump by 9.6%, or about 104,296 people, to about 1.19 million passengers daily.
If the government can implement the policy before the beginning of next year, it will help reduce the concentration of hazardous, ultra-fine PM2.5 pollutant, which tends to spike during the cooler months, said the DRT.
Source: https://www.bangkokpost.com/thailand/general/2637553/dept-mulls-ways-to-cap-train-fares