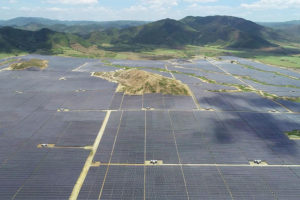 Thailand's B.Grimm Power eager to increase capacity at its power plants to 7,200 megawatts by 2025
B.Grimm Power Plc (BGRIM) plans to ramp up installed capacity at its power plants to 7,200 megawatts by 2025.
"It is BGRIM's goal to enlarge the proportion of clean power in its energy portfolio as part of the effort to reduce global warming and take care of the environment in a sustainable way," said Harald Link, chairman and president of BGRIM.
Roughly 71% of the company's total installed generating capacity is derived from natural gas-fired cogeneration plants, and 29% is from renewable or clean energy.
On June 2, BGRIM staged a roadshow to provide investors with information about the company and preparations for offering and issuing new debentures worth 8 billion baht, with 4 billion in greenshoe options.
The proceeds raised from the debentures will go towards investment in projects that will be implemented in the near future to include greenfield facilities and plants under merger and acquisition deals.
A couple of possible deals under consideration are wind farms and natural gas-fired powerhouses in Vietnam, Malaysia and South Korea.
Deals are expected to be wrapped up within the second half of the year.
Part of the funds raised from the debentures will also be used to repay existing loans to trim interest cost burdens, and another portion has been earmarked for working capital.
Part of the 12 billion baht in debentures comes from its green bond, denoting its environmental purpose, with a five-year maturity.
Some 87% of the proceeds from the green bond are for BGRIM's solar energy ventures in Vietnam and about 13% for the wind farm in the northeastern Thai province of Mukdahan.
The prices of the planned debentures are to be determined from the demand for securities under the book building process to be undertaken this week.
The offering and issuance of all three tranches of debentures is expected to take place in early July.
Bangkok Bank, Kasikornbank and Kiatnakin Phatra Securities have been appointed as underwriters for the debentures.
Source: https://www.bangkokpost.com/business/2140719/bgrim-eager-to-increase-capacity-to-7-200mw