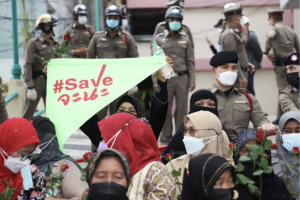 Thai Government Open to Input on Chana Industrial Project in Songkhla province
Following the June 21 decision to resume development of the Chana industrial project in Songkhla province, the government has affirmed that it remains open to the views of all interested parties.
The Chana Industrial Park project, which includes the construction of industrial facilities, deep-sea ports and biomass power plants, was approved by the Cabinet in 2018.
Some local residents expressed concern that the industrial project, proposed by the Southern Border Province Administration Center (SBPAC) as part of the National Development Strategy, may impact their communities, cultures and livelihoods.
In response to their concerns, Deputy Government Spokesperson Rachada Dhnadirek said during a press conference that a Strategic Environmental Assessment (SEA) of the Chana project will soon be conducted by the Office of the National Economic and Social Development Council.
According to the spokesperson, a recent Cabinet meeting also discussed role model city projects, including a self-sufficient city in Yala's Betong district, an agricultural industry city in Pattani's Nong Chik, and a cross-border trade city in Narathiwat's Sungai Kolok – all of which have passed study criteria and received public approval.
The SBPAC said support is also being provided for the cultivation of coconut and palm trees on unused land, as well as for farming giant mud crabs and cattle to assist residents in the region in generating additional income.
Source: NNT & https://aseannow.com/topic/1265694-government-open-to-input-on-chana-industrial-project/