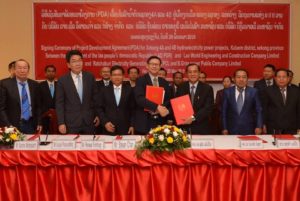 Thai firm signs Laos power deal
Ratchaburi Electricity Generating Holding Public Company Limited (Ratch) is ready for expansion into the 340 megawatt (MW) Xekong hydroelectric power project in Laos in a joint investment with the government in Vientiane.
Kijja Sripatthangkura, Ratch CEO, said that the company is pursuing an 850 MW goal for 2018 with Lao World Engineering and Construction Co, Ltd (LW) and B Grimm Power Public Company Limited. They completed the feasibility study together as well as the environmental and social impact assessment that had been approved by the Ministry of Energy and Mines and Ministry of Natural Resource and Environment in Vientiane.
"We will start the development of a combined 340-MW Xekong hydroelectric power project with two reservoirs: 4A Xekong in Lamam district and 4B Xekong in Kaluem district, Xekong province. The company plans to talk about power purchases with the Electricity Generating Authority of Thailand (EGAT), under a 9GW power cooperation deal between Thailand and Laos. It expects that electricity will serve demand in northeastern Thailand," Kijja added.
Source: http://www.nationmultimedia.com/detail/Corporate/30346611