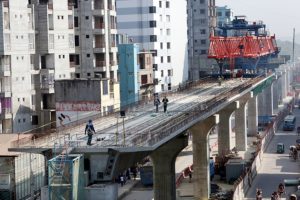 Thai experts and workers start arriving to work on Bangladesh's Dhaka Metro rail work
Work on the Dhaka metro rail is expected to get back its momentum with the arrival of foreign consultants and experts, officials said.
All the Thai experts and workers engaged in the Mass Rapid Transit (MRT) Line-06 construction have already arrived in Bangladesh by chartered planes, they added.
As the flight between Bangladesh and India remained suspended, Indian nationals working on the project have started returning to the workplace in phases through border.
They gathered in Kolkata and are coming to Bangladesh in groups, said officials of the Dhaka Mass Transit Company Limited (DMTCL).
The DMTCL is yet to get an official confirmation of the arrival of Japanese experts, but sources said Japan will start sending young consultants in the third week of August.
Japanese consultants and experts dominate all the ongoing MRT projects. A competent source said a young group of Japanese aged between 50 and 60 working under MRT-06 are expected to arrive first.
As the MRT-01 and 05 projects are still at preparatory stages, he said, Japanese in these projects are likely to start arriving from next month.
The source said work on MRT-01 and 05 can still be continued through home office.
Asked about the arrival of consultants and experts, DMTCL managing director MAN Siddique said Thailand, Chinese, Indian and some Americans have come back.
Upon their request, he said, foreign ministry has already sent a note verbale to the Japanese embassy to allow Japanese experts to come to Bangladesh under special consideration.
Mr Siddique, however, said some young Japanese under MRT-06 projects have been working from their residence in Dhaka since the start of the coronavirus lockdown.
They are virtually managing work on the construction of a metro station across the Dhaka University campus under the MRT-6.
Foreign ministry officials concerned said they have sent a note verbal requesting Japan to send its nationals working under MRT projects with special arrangement but are yet to get confirmation.
The DMTCL has been implementing six MRT projects to establish a metro rail network of 128.74 kilometres, including 61.17 kilometres underground metro by 2030.
Of them, MRT-06 is now under construction with 47.10-per cent progress until July.
But the DMTCL faces problems in doing elevated track construction on the 20.1km corridor simultaneously as Thai company is working on 10km and joint-venture Japanese companies on the rest part.
Progress in the first half is 75 per cent, but it is 41.5 per cent in the second half.
Although Japan provides all-out support to establish MRT network, Thai, Indian, Chinese and other foreigners are involved with MRT-06 to develop elevated track, depot infrastructure and other facilities.
Source: https://thefinancialexpress.com.bd/trade/metro-rail-work-foreign-experts-start-arriving-1597204196