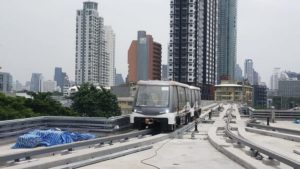 Bangkok's BTS kicks off trial runs on its driverless train Gold Line monorail between Krung Thonburi, Charoen Nakhon and Klong San
By The Nation
Now that all three driverless trains for the BTS Gold Light Rail Line have been delivered, trials on the 1.8-kilometre route will begin immediately before the service is officially launched on October 29.
The monorail will stop at three stations – Krung Thonburi, Charoen Nakhon and Klong San – before linking up with the BTS Green Line.
Constructed on a public-private partnership basis, the aim of the monorail is to make it easier for residents in Bangkok's Thonburi district to travel to downtown as well as to places like Iconsiam.
The unmanned Bombardier Innovia APM 300 trains can reach a maximum speed of 80 kilometres per hour.
Commuters can use the service for free until October 29, after which rides on the Gold Line will cost Bt16 per person.
Source: https://www.nationthailand.com/news/30393430