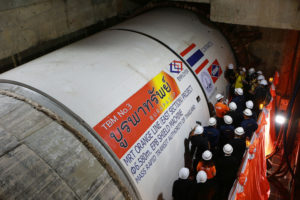 Thai Cabinet defers on Orange Line mass-transit project
The cabinet yesterday (14.03.2023)  decided to drop the Orange Line mass-transit project from its meeting agenda due to insufficient information.
Earlier, former massage parlour tycoon Chuvit Kamolvisit alleged irregularities in the bidding for the project overseen by the Transport Ministry under Saksayam Chidchob of Bhumjaithai.
Before yesterday's meeting, Deputy Public Health Minister Sathit Pitutecha said the issue should not be put forward for cabinet consideration to avoid further complications until all related legal disputes have been finalised.
Bangkok Expressway and Metro Plc (BEM) won the bid to jointly invest with the government in the western section of the rail project, but a number of lawsuits challenging the bidding process were pending in court.
After more than an hour-long review, the cabinet halted its consideration of the mass-transit system proposed by Deputy Transport Minister Atirat Ratanasate and ordered the matter withdrawn from the meeting agenda until all of the controversial issues were settled.
Mr Atirat has assumed the role of acting transport minister while Mr Saksayam is suspended from duty.
Deputy Prime Minister Wissanu Krea-ngam said several ministers felt the legal disputes should be settled before they could decide whether to approve the result of the bidding.
He admitted the issue was unlikely to be resubmitted for consideration.
All eyes were on yesterday's meeting, speculated to be the last before the House is dissolved. The bidding result of the Orange Line's western section and pay rise proposals were among the issues drawing the most attention.
The cabinet endorsed a proposal seeking to increase allowances for local leaders, including tambon chiefs and village heads, said government spokesman Anucha Buraphachaisri.
Mr Anucha said the increase, which would cost the state about 4.8 billion baht a year, was proposed by the Interior Ministry to boost the morale of staff, whose last pay hike was in 2017.
The cabinet also approved salary increases for officials from tambon administrative organisations (TAO), which will take effect in October, he said.
Traisulee Taisaranakul, deputy government spokeswoman, said a 16.2km extension of the Chalong Rat expressway was also approved, connecting Chatuchote with the Lam Luk Ka area.
Source: https://www.bangkokpost.com/thailand/general/2527844/cabinet-defers-on-rail-project