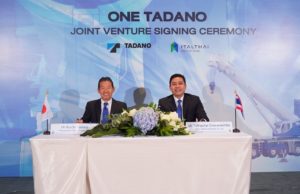 Tadano Italthai to tap Indochina for crane sales
4 December 2019
Italthai Industrial Co, an importer and distributor of heavy machinery under Italthai Group, has teamed up with Japan's Tadano Ltd to raise sales of cranes in five countries of the Indochina region to 2 billion baht by 2024.
Yesterday the company signed a venture agreement with Kagawa-based Tadano on the five-year plan.
The two parties formed Tadano Italthai Ltd last May with registered capital of 50 million baht. Tadano owns a 49% stake, while Italthai Industrial holds 48% and MHCB Consulting Thailand Co the rest.
The venture will oversee Tadano's crane markets in Cambodia, Laos, Myanmar, Vietnam and Thailand.
Koichi Tadano, president and chief executive of the Japanese company, said Thailand's crane market is capable of further growth because of the government's infrastructure projects to drive the construction sector.
"Thailand is the key country of Tadano, as the government has more than 40 megaprojects being planned and developed during 2020-24," Mr Tadano said.
Tadano has production sites in Japan, Germany, the US and Thailand. All types of cranes will come from those sites to serve the five markets.
Tadano Italthai was also appointed as sole authorised distributor of Tadano cranes in the region, Mr Tadano said.
Italthai Industrial itself distributes many construction and industrial machinery brands, including Volvo, Tadano and some Chinese names.
The company provides after-sale service for the brands at 14 branches in Thailand and Laos.
Yuthachai Charanachitta, chief executive of Italthai Group, said the other countries have potential to drive sales of cranes because their governments are developing many infrastructure projects.
The venture has had a presence in Thailand, Laos and Cambodia since 2018.
Myanmar will be the next country to enter, Mr Yuthachai said, "but we have to ensure that Myanmar's economy is healthy enough to start our distribution".
The venture expects Tadano sales in 2020 to reach 1 billion baht, up from 700 million baht estimated for 2019.
Mr Yuthachai said Tadano Italthai has secured many projects, including the high-speed railway linking three major airports, the second phase of Suvarnabhumi airport and the high-rise One Bangkok.
"We have Italian-Thai Development Plc as our business partner to develop expressways as well," he said. "Those projects will generate Tadano's sales for 2020."
Mr Yuthachai said Thailand's construction sector is capable of resuming growth after sluggish sentiment over the past three years.
At present, the country's crane market is worth roughly 5 billion baht.
Source: https://www.bangkokpost.com/business/1808059/tadano-italthai-to-tap-indochina-for-crane-sales