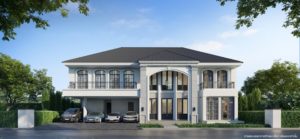 Siamese Asset plans six new residential projects
Developer diversifies into new ventures to boost and stabilise annual revenue
SET-listed developer Siamese Asset is planning to launch six new residential projects worth a combined 11.6 billion baht, with one offering nursing care facilities for elderly and rehabilitation patients.
Chief executive Kajonsit Singsansern said the company will diversify into new S-curve businesses that have growth potential, looking to establish stable annual revenue as income from property sales fluctuates widely.
"Healthcare and wellness is one of the new businesses we want to branch out into to boost recurring income during the ups and downs of the real estate industry," he said.
One of the new projects it plans to launch this year is Siamese Taling Chan, a mix of condo, hotel and nursing care facilities for elderly and rehabilitation patients transferred from hospitals like Siriraj, as the facility is nearby.
The target market is not only homebuyers, elderly or transferred patients, but also foreigners, both retirees and non-retirees, who are interested in healthcare services from Siriraj Hospital, said Mr Kajonsit.
He said most of the new projects this year are low-rise houses, with four projects in the Ratchaphruek, Pin Klao, Ram Intra and Rangsit areas.
The company aims to increase revenue from low-rise houses from one-third of the total this year to 50% by 2026.
"We will continue using a pricing strategy to compete in the low-rise housing market, just like we applied with condos since our establishment," said Mr Kajonsit, one of the founders of contractor Ritta.
"Our cost for upper-end low-rise houses is 18,000 baht per square metre, while for other developers it is 22,000 baht. Even though construction costs are rising at this time, we have a cushion to cope with it."
As mortgage rejections in the lower-end segment are high, sometimes reaching 60%, Siamese Asset is planning a leasing business to provide homebuyers with additional sources of funds.
"For some rejections, customers' credit lines were insufficient for a unit transfer as they had credit card debt," he said. "We will convert their debt to a home loan, lent through our leasing business. As a result, they can get both a credit line for the mortgage and pay their credit cards with a lower interest rate."
Siamese Asset also wants to expand into asset management as the company said there are many non-performing assets available in the market, particularly for small businesses and housing loans.
The company's recurring income comes from: food and beverages through cloud kitchens; technology like EV chargers, solar rooftops and air ventilation; and commercial properties, including hotels and retail spaces, totalling around 10 billion baht.
Source: https://www.bangkokpost.com/business/2277995/siamese-asset-plans-6-new-residential-projects