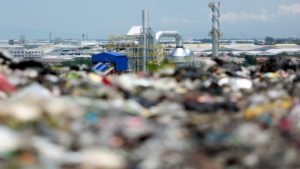 Super Earth Energy 8 wins Nonthaburi refuse-derived fuel power plant project
By THE NATION
Deputy government spokesperson Traisulee Traisoranakul said on Tuesday (October 8 ) that the Cabinet has approved the selection of private operator Super Earth Energy 8 to invest in and manage the refuse-derived fuel (RDF) power plant in Nonthaburi province.
The company recently won the bid for the project, which comes under a public-private partnership (PPP) contract. The project has an estimated value of Bt4.1 billion and will last 22 years (2 years of construction, and 20 years of operation).
"This project is a pilot scheme under the Cabinet's resolution of January 12, 2016 to manage excessive waste in Nonthaburi province," Traisulee said. "Four private companies bid for the project, and Super Earth Energy 8 won the bid."
Under the terms of the contract, Nonthaburi Provincial Administration Office (NPAO) will allocate 57 rai of land to the company for the construction of the power plant, and provide not less than 1,000 tonnes of waste per day as raw material for RDF power generation. Meanwhile, Earth Energy 8 will be responsible for the environmental impact study, investment, construction, management and maintenance of the power plant.
NPAO will pay a waste disposal fee to Earth Energy 8 of Bt300 per tonne per month, while the company will contribute Bt30 million per year to NPAO as a license fee to sell the generated power as well as to make other profits from the waste disposal system.
Source: https://www.nationthailand.com/news/30377183