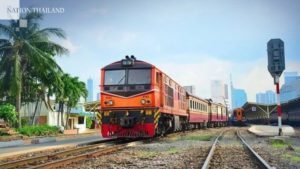 State Railway of Thailand (SRT) says double-track railway from Lopburi to Pak Nam Pho is 40 percent complete, ready for operations by 2023
By THE NATION
The State Railway of Thailand (SRT) has said that the double-track railway from Lopburi to Pak Nam Pho is 40 percent complete and should be ready for operations by 2023.
SRT governor Nirut Maneephan said he has appointed relevant departments to proceed under the State Enterprise Policy Committee's rehabilitation plan to develop the country's railways.
"The progress of the 145-kilometre double railway track from Lopburi to Pak Nam Pho (Nakhon Sawan) worth Bt21.467 billion is 40.06 percent complete, 4.28 percent faster than originally planned," he said.
"Hence, we have adjusted the plan and are speeding up the construction and installation of the signalling system to ensure it will be ready for operation in 2023 as planned."
He said the construction of the double-track railway is divided into two projects:
1. The Ban Klap-Khok Kratiam line worth Bt10.05 billion is 23.42 percent complete, or 8.4 percent faster than scheduled. The line linking Saraburi and Lopburi provinces is being built by the UN-SH Joint Venture, which is a collaboration between Thailand's Unique Engineering and Construction Plc and China's Sinohydro Corporation.
2. The Tha Kae-Pak Nam Pho line worth Bt8.649 billion is 56.71 percent complete, quicker by 0.16 percent. This line linking Lopburi and Nakhon Sawan provinces is being built by Unique Engineering and Construction Plc.
The installation of the Bt2.77 billion signalling system will take 39 months, he said, adding that SRT signed a contract with the BT-UN Joint Venture for the project on December 24, 2019. BT-UN is a joint venture between Canada's Bombardier and Unique Engineering and Construction.
Nirut added that this project is part of the government's plan to develop Thailand's transport infrastructure to boost efficiency in the travel and transportation sector.
"Once the project is completed, we confirm that we will be able to accommodate more trains, shorten travel time and reduce the cost of logistics," he said.
Source: https://www.nationthailand.com/news/30387530