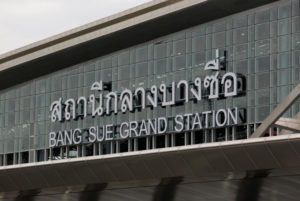 State Railway of Thailand (SRT) Baht33m redesign of signage contract for renamed Krung Thep Abhiwat Central Terminal faces audit
The Transport Ministry has ordered an investigation into a 33-million-baht contract for a nameplate and logo redesign of Bang Sue Grand Station after concerns were raised about the project's cost.
The State Railway of Thailand (SRT) signed the contract with Unique Engineering and Construction Plc (Uniq) for the redesign project, which includes the installation of a new logo for the station and 24 three-metre-tall Thai letters.
The redesign follows His Majesty the King renaming the Bang Sue Grand Station as "Krung Thep Abhiwat Central Terminal" in September.
Minister Saksayam Chidchorb said on Tuesday that the investigation, which began on Monday, will be completed in seven days.
Mr Saksayam said that the investigation would focus on whether the budget is suitable for the project's size, as the contractor has promised to change every nameplate installed in the Grand Station.
The contractor will be terminated and punished if the investigation finds any corruption in the project, said Mr Saksayam.
"The investigation has now been turned over to the State Audit Office, so there is nothing to worry about," he added.
SRT has said that the project's 33-million-baht budget was acceptable due to the heavier letters on the nameplate and the work involved in the installation.
A source said that SRT chose Uniq from another three contractors who bid on the project on Dec 21 since the company had been responsible for other construction projects for the station.
Sarawut Saranwong, the president of the SRT labour union, said the union agreed to the change of nameplate to the official name of "Krung Thep Abhiwat Central Terminal", but the union did not agree on the cost, which he said is quite high.
The union on Tuesday submitted a petition to SRT executives about the cost and demand an investigation on the bidding, he said.
Meanwhile, the Move Forward Party (MFP) said that the redesigning project might not be necessary for the time being, as the name Bang Sue Grand Station is more familiar to people than the new name.
MP Surachet Pravinvongvuth, as a member of the Committee on Transport, suggested the government compare the project with its appraisal cost and the necessity of the project.
Source: https://www.bangkokpost.com/thailand/general/2474739/srts-b33m-redesign-contract-faces-audit