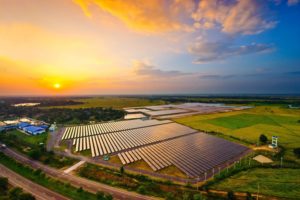 SPCG expects to win approval for 23 solar farms across Thailand's Eastern Economic Corridor (EEC)
SET-listed SPCG, a pioneer in solar farm development in Thailand, expects to secure state approval to build 23 solar farms across the Eastern Economic Corridor (EEC) in the third quarter to offset its revenue loss from the gradual expiration of the adder tariff for its existing solar farms.
The new project, to be co-developed by PEA Encom International Co, a wholly-owned subsidiary of state electricity distribution arm Provincial Electricity Authority, will be one of the largest solar energy developments in Thailand, with a combined capacity of 316 megawatts.
Wandee Khunchornyakong Juljarern, chief executive of SPCG, said the company already acquired plots of land and signed a power purchase agreement with the government. It is awaiting approval for construction from the National Energy Policy Council, she said.
The 23 solar farms, to be located in Chon Buri, Chachoengsao and Rayong provinces, will be developed under a 23-billion-baht budget.
The new project is expected to generate more revenue for the company as the end of the adder tariff gradually occurs between 2020 and 2024. The tariff was granted to its 36 solar farms in the northeast and central regions.
The eight-baht tariff, introduced by the government to encourage investors to build solar farms, is added to the electricity rate, allowing SPCG to sell electricity to the state grid at a higher price for 10 years after the beginning of operation.
Mrs Wandee said the company prepared to diversify revenue several years before the expiry dates by expanding its solar power business to Japan, where it is operating and developing three solar farms.
"We are worried about a shortage of some construction materials and higher prices of some electronic equipment because of the conflict in Europe. This may affect development costs," she said.
For its rooftop solar panel business, SPCG expects sales of rooftop solar panels, especially to the industrial sector, will resume in the third quarter, following a purchase delay caused by the pandemic.
Source: https://www.bangkokpost.com/business/2325243/spcg-set-to-win-approval-for-23-solar-farms-in-eec