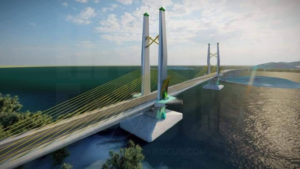 Songkhla to Phatthalung by new bridge across Songkhla Lake a step closer to reality
SEE ALSO: Discussions Underway To Link Songkhla And Phattalung Provinces By Bridge Over Songkhla Lake
Hat Yai Focus reported that plans for a new bridge that would link Songkhla to Phatthalung across Songkhla Lake have moved a step closer to reality.
At present two bridges linking the two southern Thai provinces are spaced so far apart meaning that those in between them are faced with long journeys to get from one province to the other.

Picture: Hat Yai FocusA new bridge of 6-7km length would solve this problem cutting the average journey time by about two hours.
In addition emergencies would be less of a problem especially for Phatthalung folk needing to get to Songkhla.
The development that means the plan is closer is an EIA (Environmental Impact Assessment) being currently conducted by the highways department into the feasibility of the scheme.
Source: Thaivisa & Hat Yai Focus