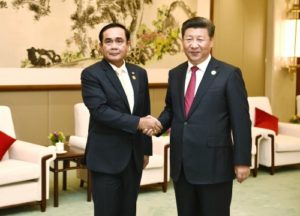 PRIME MINISTER Prayut Chan-o-cha has told Chinese president Xi Jinping that the Sino-Thai high-speed train project must proceed despite "legal issues" hampering it.
Prayut's remarks followed a series of disagreements between Thailand and China over the project – from loan interest rates to the use of construction materials.
The project comprises two routes – Bangkok to Nakhon Ratchasima and Rayong to Nong Khai.
The first 3.5 kilometres of the 271.5km Bangkok-Nakhon Ratchasima route was initially planned to start this month but was suspended due to financial issues, according to the Transport Ministry.
Prayut had ordered the ministry to find a solution to the impasse during the government's term as it was designed to be part of a land-route connectivity project with Laos.
The premier did not spell out the legal issues obstructing the deal.
His order was followed by Thailand and China signing an agreement during their 13th meeting on railway cooperation in Beijing. The agreement, signed last month, states that Thailand will fund all the construction and retain ownership rights while China will design the project.
The project's estimated cost is Bt179 billion and it would span 837km.
Xi also reaffirmed that China was ready to continue with the project.
During their side meeting at the G20 Summit in the historic Chinese city of Hangzhou, the two leaders agreed to pursue bilateral strategic cooperation in multiple areas to cope with global challenges and achieve mutual development goals. Prayut thanked China for welcoming Thailand, in the former's capacity as the G77 chair at the G20 summit.
He also said he appreciated Xi's vision to facilitate cooperation between leading industrialised economies and emerging economies.
Thanks Beijing for boosting tourism
He thanked Beijing for boosting Thailand's tourism industry, with almost 8 million Chinese visiting the country last year – making it easily the Kingdom's No 1 source market.
On last day of the summit, Prayut provided two vision statements stressing Thailand's role as a bridge-builder between the G20 and G77 economies that could help accelerate the United Nation's 2030 Agenda for Sustainable Development. He also urged G20 members, which comprise industrialised and emerging economies, to focus on agricultural sectors as the main income source for developing countries.
Agriculture also contributes to global food security, Prayut said, suggesting that the G20 could help farmers better integrate into the global economy.
He also praised the G20's efforts in bridging gaps in infrastructure development, citing the China-initiated One Belt, One Road scheme and Asian Infrastructure Investment Bank initiatives as examples.
The premier said transportation connectivity, including rail, should be promoted further.
Prayut last evening left China and arrived in Vientiane, where he will attend the 28th-29th Asean Summit from today until Thursday.
Source: http://www.nationmultimedia.com/politics/Sino-Thai-rail-project-must-go-ahead-despite-legal-30294595.html