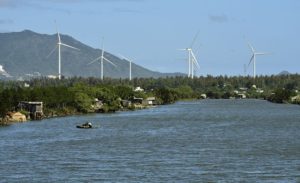 Siemens Gamesa wins Vietnamese nearshore project deal in Tra Vinh province
Siemens Gamesa has secured its largest nearshore project to date in Vietnam – the 100MW Tra Vinh Dong Hai 1 wind farm.
Located in Tra Vinh province, the project will feature 25 SG 5.0-145 turbines with a flexible power rating.
It  is the first nearshore project by Trungnam Group as the Vietnamese energy and infrastructure developer expands to the nearshore sector to complement its existing renewables portfolios for solar and onshore wind projects.
Additionally, Siemens Gamesa has signed a 20-year long-term contract to provide operation and maintenance services for the project, ensuring turbine and farm performance and maximising the business case for the customer.
Siemens Gamesa has developed many new partners in Vietnam as well as its capability to leverage its offshore engineering and construction experience to develop nearshore projects in Vietnam.
Siemens Gamesa's chief executive of its onshore business unit in Asia Pacific Paulo Soares said: "We are investing to grow our team and presence in Vietnam to ensure that we produce the best solutions available to help our valued customers accelerate the development of wind energy in the country."
Source: https://renews.biz/66213/siemens-gamesa-wins-vietnamese-nearshore-project-deal/