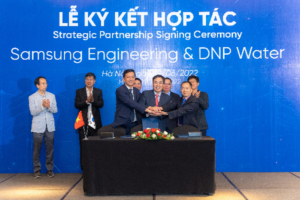 Samsung Engineering Acquires Stake in Vietnamese Water Treatment Company
Samsung Engineering, one of the world's leading engineering, procurement, construction and project management (EPC & PM) companies, announced on June 30 that it has acquired a 24 percent stake in the Vietnamese water treatment company DNP (Dong Nai Plastic) Water for about US$41 million.
A signing ceremony was held at the Intercontinental Landmark Hotel in Hanoi, Vietnam, attended by executives from both companies, including Samsung Engineering executive vice president Kang Gyu-yeon, DNP Water chairman Ngo Duc Vu. With this acquisition, Samsung Engineering will hold a 24% stake in DNP Water, DNP Holding will hold 53%, and other stakeholders 23%.
DNP Water is a private enterprise that focuses on local water supply businesses in Vietnam, and is the largest private water treatment company in Vietnam in terms of treatment capacity. It was spun off from DNP Group, a manufacturer of plastic piping, in 2017. Since then, it has been growing in the water treatment business by purchasing privatized existing water supply assets and developing new businesses.
The Asian water treatment market is shifting from a loan business to a private-led market, due to recent economic developments. Accordingly, Samsung Engineering plans to actively target Vietnam as a base for the Asian water treatment market.
Samsung Engineering has confidence that the company's rich EPC experience and their global technology expertise in the water treatment field, as well as DNP Water's experience and network in Vietnam's water supply businesses, could create synergy in future business executions.
The stake in DNP Water enables Samsung Engineering to have access to Vietnam's water and sewage treatment businesses and therefore can expand businesses in this important market. Further, based on such regional competitiveness, Samsung Engineering plans to expand its business into Vietnam's sewage treatment businesses, and further expand this model applied in Vietnam to neighboring Asian countries.
Samsung Engineering executive vice president Kang said, "Aligned with the recent global environmental, social, and governance (ESG) trend, our environmental business is positioned as one of our company's future growth engines." He further added, "Samsung Engineering plans further to expedite and grow in the global environmental markets such as in Asia, by setting an example with successfully executing our environmental businesses in Vietnam."
Source: http://www.businesskorea.co.kr/news/articleView.html?idxno=95632