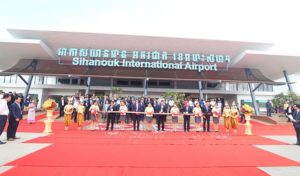 Runway Extension in Cambodia's Sihanoukville International Airport Confirmed to Be Completed in June 2020
Sihanoukville International Airport will be able to handle long-haul aircrafts' landing and take-off from June this year after the 3,300-metre-long runway extension project is completed.
The completion of runway from 2,800 metres to 3,300 metres at the airport will allow Cambodia to handle the landing and take-off of long-haul aircrafts from further distance like from European countries –France, said H.E. Chea Aun, Secretary of State and Spokesman of the State Secretariat of Civil Aviation at a recent press conference.
"Currently, the three international airports can handle medium-haul aircrafts from China or from Qatar, but after the completion of runway extension, Sihanoukville International Airport can handle landing and take-off long-haul aircrafts for example from Paris to Cambodia," H.E. Chea Aun said in a recent press conference at the Office of the Council of Ministers.
Cambodia has currently 47 airlines – six of them are local ones, including national flag carrier – Cambodia Angkor Air – providing passenger and cargo air services.
The three international airports are currently managed by Cambodia Airports, a subsidiary company of France-based VNCI Group.
Passenger traffic grew 10.2 percent year-on-year in 2019 to 11.6 million passengers, according to Cambodia Airports' report.
By Chea Vannak
Source: https://www.akp.gov.kh/post/detail/30083