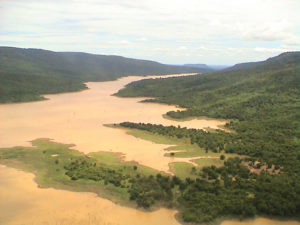 Reservoir Construction Project around Thailand's Dong Phayayen-Khao Yai Forest Complex Is Still in Study Phase
Thailand's Royal Irrigation Department (RID) has explained that a plan to construct a cluster of seven reservoirs around the Dong Phayayen-Khao Yai Forest Complex is still in its study phase, in response to local environment groups which oppose the project.
RID Director of environment Mahit Wongsa said none of the seven projects, which are a part of a water management effort for the Bang Pakong river basin, have begun and some are still pending surveys and design planning.
He said the Department of National Parks, Wildlife and Plant Conservation (DPN) also asked the RID to clarify the reservoir project issue. Earlier, there were concerns that the Dong Phayayen-Khao Yai Forest Complex was at risk of being placed on a "danger list", due to forest encroachment by development projects.
Mr. Mahit said, however, that UNESCO's World Heritage Committee spared it and asked Thailand to comply with its recommendations and refrain from building new dams.
Source: Aseannow.com