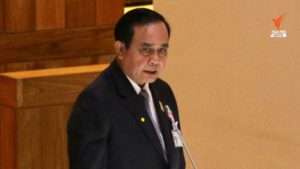 Rayong's U-tapao International Airport and Eastern Airport City Project contracts signed
Thailand's Prime Minister Prayut Chan-o-cha chaired the signing ceremony at Government House for a Public Private Partnership (PPP) Agreement for the U-tapao International Airport and Eastern Airport City projects. The deal is between the Eastern Economic Corridor Office of Thailand (EECO) and U-tapao International Aviation Company Limited (BBS Joint Venture).
This is a major infrastructure project to upgrade U-tapao to become Bangkok's third commercial international airport, linked with the Suvarnabhumi and Don Mueang international airports via high-speed train.
The project will also create a business development hub in the 30km around the airport.
Connecting with Bangkok by sea, road, rail and air, the project is expected to be the driver of Thailand becoming an aviation hub and the prime gateway to Asia.
The project is estimated to cost 290 billion baht, with an anticipated 305 billion baht return, generate tax revenues of more than 62 billion baht, create 15,600 jobs per year for the first five years and encourage advanced technology and human resource development in aviation and related businesses.
The project is located in Ban Chang district of Rayong province, about 30km from Pattaya and Map Ta Phut industrial estate.
Source: https://www.thaipbsworld.com/u-tapao-international-airport-and-eastern-airport-city-project-contracts-signed/