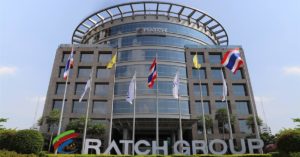 Ratch Group to pay B1.6bn for RCO plant's expansion in Pathum Thani
Ratch Group Plc, Thailand's biggest private power generation firm by capacity, plans to spend 1.6 billion baht to expand capacity at its wholly owned gas-fired power plant unit, Ratch Cogeneration Co (RCO).
The plan, aimed at increasing capacity by 27%, has been approved by Ratch's mother enterprise, the state-run Electricity Generating Authority of Thailand (Egat).
The 1.6 billion baht will be allocated from the company's capital spending, said Ratch chief executive Kijja Sripatthangkura.
The power plant, located in Pathum Thani, is operating with installed capacity of 110 megawatts and generating 10 tonnes of steam an hour.
The new capacity will enable RCO to produce a further 30MW of electricity and 5.46 more tonnes of steam an hour to meet rising demand from industrial users.
Construction of new facilities is set to begin next February for commercial operations starting in July 2022.
RCO is run under the small power producer scheme as part of a 25-year power purchase agreement with Egat.
Up to 90MW of the 110MW of power is connected to Egat's grid. The rest, along with the steam, is sold to various clients, including the Navanakorn Industrial Promotion Zone in Pathum Thani, the Chum Num Subb Industrial Property Project and the National Science and Technology Development Agency.
The latest upgrade is part of Ratch's rapid business expansion, which includes asset acquisitions and development projects.
In July, Ratch acquired a 49% stake in Vietnam's An Binh Energy and Infrastructure Fund (ABEIF) in a US$78.5-million deal.
In May, it increased shareholding in Ratch & AIDC Wind Energy Pte, a wind farm operator in Vietnam, to 63.8%.
In April, it announced a joint venture with two companies to set up REN Korat Energy Co to develop a 40MW gas-fired power plant in Nakhon Ratchasima at a cost of 2.18 billion baht.
In March, it acquired a 49% stake in gas-fired Nexif Energy Rayong from NER Singapore Pte in a US$21-million deal.
Mr Kijja said the company plans to conclude at least five deals this year under a 10-billion-baht budget to obtain additional capacity of 780MW, bringing total capacity to 8,715MW by the end of 2020.
Source: https://www.bangkokpost.com/business/1963555/ratch-to-pay-b1-6bn-for-rco-plants-expansion