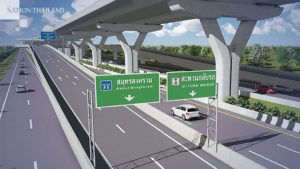 Rama II road (Highway 35), Bangkok to the South, to open 4 more lanes in December 2020
By The Nation
Construction work to widen Rama II Road (Highway 35) is scheduled for completion in December, when the 11.7-kilometre Bang Khunthian-Ekkachai stretch will be expanded from 10 to 14 lanes.
The road widening would ease traffic congestion on the main route from Bangkok to the South, said Sarawut Songsivilai, director of Transport and Traffic Policy and Planning.
Widening work was 83 per cent complete, with only two U-turn bridges left to be constructed, he added.
Meanwhile, the first 10km of Rama II's elevated Bang Khun Thian-Ban Phaeo section should be ready to open by 2022, Sarawut said.
Source: https://www.nationthailand.com/news/30396199