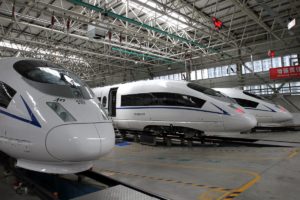 How a Thai railway could fast-track China's interests in Southeast Asia
Deal including track and trains is vital to plans to link China and Thailand by rail, offering economic benefits and a platform for China's ambitions
China will bring its high-speed rail expertise, while Thailand will foot the construction bill – but why exactly are the two coupling up?
China and Thailand are set to sign a contract vital to the construction of a 253km (157-mile) high-speed rail link in the Southeast Asian nation that could eventually connect the two countries.
Why does it matter?
The project could prove to be a milestone for Beijing's "high-speed railway diplomacy", while boosting Thailand's involvement in China's strategy in the region.
Beijing has sought closer ties with its Southeast Asian neighbours, in part to diversify its export market after its protracted trade war with the US. The 10-member Association of Southeast Asian Nations (Asean) this year overtook the US and the European Union to become China's largest trading partner.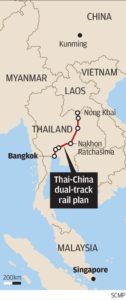 Why now?
Chinese Foreign Minister Wang Yi is due to arrive in Thailand on Wednesday for a two-day visit – the penultimate stop on his five-nation Southeast Asian tour – during which the rail deal is expected to be signed. Wang is set to meet Thai Prime Minister Prayuth Chan-ocha as well as Deputy Prime Minister and Foreign Minister Don Pramudwinai.
What is the railway?
A high-speed rail link between the countries was proposed in 2010. Four years later, China and Thailand signed a memorandum of understanding agreeing to build a central portion of a transnational railway from Kunming, in the southwestern Chinese province of Yunnan, to the Gulf of Thailand, using Chinese technology. It would be Thailand's first high-speed railway.
Phase one is a 253km route between Bangkok and the northeastern Thai city of Nakhon Ratchasima, from where it would be extended to Nong Khai in the north. Passengers could then cross the border into Laos and take the China-Laos railway – expected to be completed next year – from Vientiane to Kunming.
Construction of the Bangkok-Nakhon Ratchasima section started in late 2017 after the two sides inked agreements on designs and construction. The next milestone is a 50.6 billion baht (US$1.6 billion) contract considered to be the most important agreement, covering the cost of track, electricity systems and machinery, as well as procurement of train carriages and training.
In numbers
The trains will run at speeds of up to 250km/h (155mph). Thailand will shoulder the total construction cost of 179 billion baht for the first phase, with China responsible for installing systems, design and the procurement of trains.
Why is China involved in a Thai railway?
Thailand and China have shared the idea of enhancing transport links between China and mainland Southeast Asia since the early 1990s.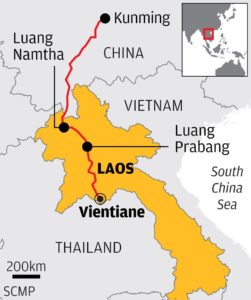 China views its rapidly expanding domestic high-speed railway network as a symbol of its technological progress, and has made moves to export its technologies to neighbouring countries and beyond under its transcontinental infrastructure strategy, the Belt and Road Initiative.
For China, the railway could allow access from its west to mainland Southeast Asia and even the Malay Peninsula, and further cement its presence in the region. "It would definitely benefit regional connectivity and facilitate trade and people exchange," said Xu Liping, director of the Centre for Southeast Asian Studies at the Chinese Academy of Social Sciences. "People in Malaysia and Singapore could take high-speed trains to China, which would also bring in more business opportunities."
For Thailand, the route could further bolster its status as a key transport hub in the region, Xu said. The Thai government has estimated the project will double the country's passenger rail capacity, with more than 22 million commercial passengers expected annually.
The risk
Chinese state-owned companies have also won deals to build high-speed railways in Indonesia, Malaysia, Russia, Mexico and the United States, but many of the projects have experienced setbacks with delays, downgrades or cancellations.
In 2014, the Mexican government cancelled a US$3.6 billion high-speed railway contract, citing an "opaque" tender process. Rail projects in Malaysia and Indonesia have been repeatedly renegotiated over cost and environmental concerns.
The reward
China is the largest trading partner to Thailand, with millions of Chinese tourists visiting each year and China last year surpassing Japan as its largest source of foreign direct investment, according to Thai figures. The vast majority of investment deals were linked to the belt and road, in which Thailand offers strategic value with its potential for sea, air and rail links across Southeast Asia.
Thailand has no territorial disputes with China and leaders of the two countries have met frequently. "Thailand is like a coordinator between China and Southeast Asia," Xu said, adding that Thailand, as the only country in Southeast Asia to retain its independence during World War II, had shown its ability to play a balancing role.
Source: https://www.scmp.com/news/china/diplomacy/article/3105375/how-thai-railway-could-fast-track-chinas-interests-southeast