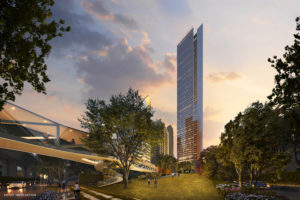 Raimon Land Partners with Mitsubishi Estate to Create Bangkok's One City Centre
Featuring high-tech design and luxurious amenities, One City Centre is a modern new office development that sees Raimon Land partnering with Japanese real estate developer Mitsubishi Estate.
In Bangkok's Central Business District, you couldn't ask for a better location than Ploen Chit Road, especially the area directly surrounding the BTS station. It's ultra-prime real estate, and close to an array of luxury hotels and fine dining establishments. But those aren't the only reasons why the new One City Centre office building – which covers a total of six rai in this coveted part of town – is such a highly anticipated construction project.
Scheduled for completion in Q4 of 2022, One City Centre (OCC) is an 8.8 billion Baht development in which Raimon Land Public Co. Ltd, Thailand's leading luxury real estate developer, has partnered Mitsubishi Estate Co. Ltd, one of the most prestigious real estate companies in Japan. The building itself will be comprised of 61 floors, with an estimated total rental area of 61,000 square meters, to which 92 percent will be offered as office space and the remaining 8 percent as retail area and amenities.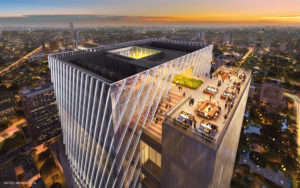 Of course, as business has evolved, so too has the modern employee. From their new perspective, work and life are one, and often seamlessly integrated. As today's world rides on the wave of the new tech economy, the next generation of talents brings with them a new way of working. With an aim to genuinely respond to and fulfill the needs and concerns of this 21st century work force, OCC has a number of unique features incorporated into its design.
For those arriving via the city's skytrain system, access is made extra easy as the building will be directly connected to Ploenchit BTS Station. OCC's Sky Bridge connects to the public skywalk making the approach seamless, while an elegant spiral staircase with a lush green core is integrated to connect the ground floor walkway to the Sky Bridge – a refreshing feature of the project's entrance.
OCC will also be the greenest urban hub in the nearby vicinity, with a frontage quarter dedicated for public use that consists of a sloping great lawn surrounded by large, preserved trees and colourful seasonal plants. For those getting to OCC by car, the designated parking area includes a charger for drivers of hybrid or electric vehicles, while a special bike area with lockers and showers is provided for cyclist- commuters.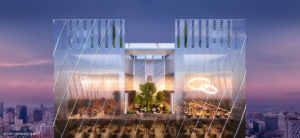 Inside the building, the clever design allows for a great deal of freedom when it comes to defining the layout of each tenant's unit.The flexible office space concept here means that tenants will be able to subdivide the floor plates into optimal sizes, starting from 140 square metres to 1,400 square metres, in order to best suit their needs. This means OCC can cater to both large corporates seeking to relocate and consolidate their existing dispersed leases, as well as small and medium-sized enterprises looking for a suitable upgrade.
As for the building's uniquely conceived structural architecture, it's designed to provide occupants with column-free span – the largest such spaces in Thailand – which, in turn, lends itself to limitless possibilities when it comes to floor plan customisation. The demands of today's new working culture most often include a free flow of collaborative space, the flexibility to design for specific functions that differ within each individual business, and the ability to accommodate for future growth. All three concerns are addressed with OCC's inventive and forward-thinking architectural design.
On the exterior, the simple yet dynamic façade will be lined by diagonal fins that spiral around the building's rectangular form. This visually stunning external shading system serves to minimise cooling loads, while the floor to ceiling glass windows still let in plenty of natural daylight. The overall architecture also maximises the natural ventilation potential, in order to provide a comfortable outdoor experience for occupants in the plaza and sky garden areas.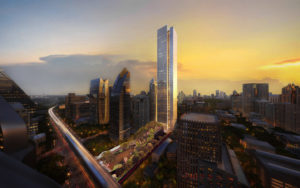 Making the daily nine to five grind a more pleasant experience is also a factor, and at OCC employees can take advantage of pod seating, to enjoy their own sense of space, and comfy nap pods to get recharged during the day. At mealtimes the pop-up lunch cafeteria will feature rotating delicacies, while several areas in the building will be dedicated to a new concept food hall offering an array of dishes from all genres of cuisine. Other lifestyle highlights include a café with library, a gym and wellness centre, and a chillout rooftop venue – perfect for relaxing after hours and watching the sunset.
For Korn Narongdej, recently appointed as the Chairman of the Executive Committee and COO of Raimon Land PCL, this Grade A smart building is something he, and the whole company, is very excited about. "We intend for it to be Bangkok's new landmark," he says with confidence.
For a company such as Raimon Land, a pioneer and trusted developer in theThai domestic market for luxury residential projects, One City Centre represents a step new direction that will both diversify and strengthen their core business. Coupled with Mitsubishi Estate's proven track record, experience, and resources in developing large-scale commercial projects in the region, this dynamic new building development will be a welcome addition to Bangkok's ever-expanding skyline.
To find out more about One City Centre, visit onecitycentrebangkok.com.
Source: https://www.prestigeonline.com/th/pursuits/design-property/raimon-land-one-city-centre/