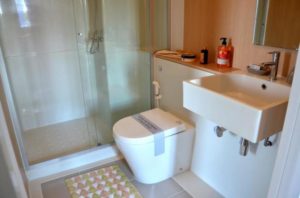 SET-listed developer Pruksa Real Estate Plc will provide prefabricated bathroom pods for condo projects to cut construction time for high-rise buildings by half to only one year and support growth in the sector.
Amornpol Thupawirote, managing director for precast, said Pruksa's factory-made, fully fitted and plumbed bathrooms would be used for the first time at its Plum Condo Central Station project, two 38-storey buildings with a total of about 2,200 units in Bang Yai district of Nonthaburi.
"Precast technology can reduce the construction time of high-rise condos to only two years from the usual 36 months by traditional construction methods," he said. "At the Bang Yai site, we aim to reduce the period to only one year by using bathroom pods."
Bathroom pods using an innovation from Germany can also help control construction quality as they are produced with full automation and delivered to construction sites almost ready to use.
With better quality and fewer defects than bathrooms built with traditional methods, the transfer period to customers will be shortened as repair jobs during unit inspection will be minimised.
"When we deliver units faster, we will be able to book revenue faster as well," Mr Amornpol said.
Pruksa aims to reduce the business cycle from booking to transfer to less than 734 days for condos and to 75 days for single houses and townhouses by year-end. As at the end of the first quarter, it was 78 days for single houses and townhouses, down from 79 days in 2015, and 734 days for condos, down from 739 days last year.
"The business cycle time for condos should be shorter as our condo development business grows," said Mr Amornpol.
This year Pruksa plans to launch seven condo projects worth a combined 12 billion baht among 65 new projects worth 54 billion baht, up from only four condo projects worth 4.4 billion baht launched last year.
Pruksa has applied precast construction technology since 1993, starting with the use of load-bearing wall structures before setting up a first precast factory in 2004.
With technology from Germany's Ebawe Anlagentechnik GmBh, it now has seven precast factories in Pathum Thani, on which it has invested 7 billion baht.
Total production capacity of the seven sites is 6.5 million square metres a year or 1,120 units per month. It is now operating at 60% capacity.
"Current production capacity can support up to 60 billion baht in revenue, which we aim for in 2017. If it is fully used, we have remaining plots near the current factories to build an additional three ones," Mr Amornpol said.
Pruksa last month revised up its 2016 revenue target to 53 billion baht from 52 billion set early this year. Revenue was 50.7 billion baht last year. It expects 51 billion baht in presales this year, up from 42.2 billion.
At the end of the first quarter, it had 171 ongoing projects with unsold units worth a combined 78.7 billion baht, comprising 140 low-rise projects worth 61.3 billion and 31 condo sites worth 17.4 billion.
From 1993 to 2015, it used precast construction technology at 476 housing projects, which accounted for 91% of the 525 projects it developed.
Precast was 100% applied at all 112 single-house projects with a total of 26,084 units. Precast was 94% used for townhouses at 325 projects and around 107,000 units. Only 57% of condo projects or 39 sites with around 4,000 units used precast.
PS shares closed on Friday on the Stock Exchange of Thailand at 24.90 baht, down 10 satang, in trade worth 224 million baht.
Source: http://property.bangkokpost.com/news/1020809/pruksa-cuts-construction-time