Proud Real Estate's Proudputh Liptapanlop, Proud to go her own way in the real estate world
Forgoing the political path of her famous father, Proudputh Liptapanlop made her moves in the other family business.
05 October 2019
Proudputh Liptapanlop, daughter of heavyweight politician Suwat, has never thought about following in the political footsteps of her father, a former deputy prime minister and now the Chart Pattana Party's chief adviser.
Instead, she chose to take the helm of the family's real estate business at 23 years old, and Ms Proudputh believes she made the right decision.
"When people know you as a powerful politician's daughter, it always comes with prejudices and doubts," she says. "Business is then one of the best choices to justify my own values and capability."
The graduate of Oxford and London Business School joined the family business in 2013. With her qualifications, Ms Proudputh, who is now the executive director of Proud Real Estate Co (a part of Prayoonwit Group, one of the largest and oldest civil construction firms in Thailand), was entrusted as the family's representative to work with Supaluck Umpujh, chairwoman of The Mall Group, on the joint development of Bluport Hua Hin Resort Mall in 2012.
Developed by Hua Hin Asset, a joint venture of The Mall Group and Proud Real Estate owned by the Liptapanlop family, the project is located in the town centre and required an investment of 5 billion baht.
"It's not too early to start working at 23 years old," Ms Proudputh says. "My grandfather and grandmother started working at 18 years old and 16 years old, respectively, while my father started helping his parents at 7 or 8 years old."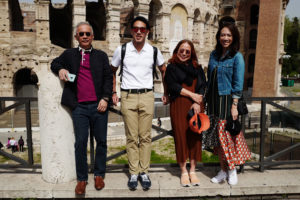 With her strong educational background, she intends to expand her family's business empire as much as possible.
According to Ms Proudputh, the family's construction business provided an opportunity to acquire several land plots in prime locations.
"My grandfather loves buying land during his work," she says. "With plenty of land plots on hand, we thought about expanding into the hotel and property business."
Proud Real Estate entered the hotel segment in 2009, developing InterContinental Hua Hin Resort that year and Holiday Inn Resort Vana Nava Hua Hin soon after.
Nonetheless, Ms Proudputh admits that despite being born into the construction business, her knowledge of construction was zero on her first day of work.
The family diversified into the property business in 2012, starting with Bluport Hua Hin Resort Mall, then launched Proud Residence Co, a joint venture firm with Thongchai Busrapan, chairman and president of Noble Development Plc, in 2014. The family held 70% in Proud Residence while Mr Thongchai owned 30%.
Proud Residence developed just one project, Park 24, a large luxury condominium with over 2,000 units in Sukhumvit Soi 22, with an exit onto Sukhumvit Soi 24 after the company bought another plot for access.
The latter piece of land, 1.5 rai in area, set a record with its per-square-wah price of 2 million baht.
While the project was still unfinished, SET-listed Origin Property Plc acquired Proud Residence and the condo project in mid-2017 in order to continue development and to add Park as a luxury brand to Origin's stable of mid-range brands.
"I have only knowledge of strategic marketing," Ms Proudputh says. "And thanks to working with business gurus like Ms Supaluck and Mr Thongchai, my knowledge of construction and property management has developed and grown."
With experience and knowledge accrued, the 31-year-old businesswoman continued with the Vana Nava Hua Hin water park project in 2016, and many new projects are in the pipeline as well.
Ms Proudputh recently revealed that the family is branching out into Phuket, investing 7 billion baht to develop a water park and hotels on the southern resort island.
Of the total 7 billion baht, 2.5 billion will be used to build the Andamanda water park on a 46-rai plot. Some 1.5 billion baht will be spent on a 300-room Holiday Inn four-star hotel on seven rai within the water park project, located in Kathu district.
Andamanda is due to open in early 2021.
The remaining spending will go to building the InterContinental five-star luxury hotel with 221 rooms on 33 rai along Kamala beach. The hotel had a soft opening in August and went fully operational in the third quarter.
"Despite massive numbers of existing hotels and entertainment spots, we haven't seen anything like what we are doing," Ms Proudputh said, citing the Andamanda project as an example of design reflecting the beauty of Thai arts and culture and local authenticity, comprising three distinct zones.
The three zones are Phuket's largest water park, offering over 19 world-class attractions; the Holiday Inn Andamanda Phuket, managed by InterContinental Hotel Group; and a hangout community with space of 2,000 square metres.
The company expects Andamanda to welcome more than 700,000 visitors in the first year.
The expansion is far from over, as the family aims to develop two condominium projects in Hua Hin: one at the same area of Vana Nava and the other near Hua Hin beach, which will launch over the next few months.
Logistical services, warehouses, convention centres and residences for retirees are other potential segments of interest.
The company has also been contacted by several business owners seeking joint development in water parks and water park management both in Thailand and abroad.
With that in mind, Proud Real Estate is mulling future expansion of the water park business.
"We focus on neighbourhood development, developing many kinds of projects in the same province," Ms Proudputh says. "We are the only property developer that engages not only in property development, but also hotels, water parks, retail and residences. We aspire to develop condominium projects that have a unique design concept of more than just for a living and are authentic to the surroundings."
Ideas for new projects sometimes originate from her travels.
"Every time I go abroad, I like to stay both in luxury hotels and even two-star hotels," Ms Proudputh says. "The first thing I have to do is look at the hotel's decoration details and construction quality, local people's living, the culture and services."
Diving is one of Ms Proudputh's favourite outdoor activities, satisfying her penchant for exploration and adventure. It's an enthusiasm that should serve her well as the family business continues to grow.
BIO DATA
Proudputh Liptapanlop
Age: 31
EDUCATION
– Bachelor of Arts (honours), economics and management, University of Oxford
– Master of Science (distinction), management, London Business School
CAREER
– 2019-present: Executive director, Proud Real Estate
– 2013-16: Executive director, Proud Residence, Park 24
– 2012-present: Executive director, Proud Group
– 2010-12: Business analyst, McKinsey & Co
FAMILY
– Single
HOBBIES
– Working out, diving
Source: https://www.bangkokpost.com/business/1765484/proud-to-go-her-own-way-in-the-real-estate-world