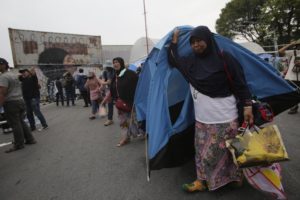 Protesters celebrate as Thai government halts Chana Industrial Estate project in Songkhla
The government agreed on Monday to suspend the planned Chana Industrial Estate in Songkhla so it could spend more time analysing the environmental impacts after intense lobbying by local villagers and Islamic leaders.
"The project must be delayed until there are solutions. There are a few issues that need to be studied," said Captain Thamanat Prompow, the deputy agriculture minister.
Speaking in his capacity as head of a committee appointed by Deputy Prime Minister Prawit Wongsuwon to look into villagers' complaints, Capt Thamanat confirmed that the process to approve the project would be halted as local protesters had demanded.
The first impact of that decision is the adjournment of a provincial meeting today, at which switching the land in question from agricultural to industrial use was set to be approved.
Capt Thamanat promised that he and other committee members would travel to Chana district on Wednesday to inspect the land and hear villagers' complaints.
In May last year, the cabinet agreed to the Chana estate becoming a model for future industrial developments by the Southern Border Provinces Administrative Centre (SBPAC). The centre said it was hoped the estate would boost the local economy and, in turn, help eliminate the insurgency that has plagued the southern provinces for years.
Since then, the project has been slammed by local communities and civic rights groups, especially after the government reportedly planned to rezone the land.
Environmental activists have also warned that industrial discharges from the proposed estate will affect the area's marine resources.
The resistance campaign was emboldened recently after it gained the support of local schools teaching Islamic principles, known as ponoh.
The Association of Songkhla Provincial Ponoh Schools recently asked the government to stop the project and instead to launch a social and environmental impact study with local participation in a bid to map out a plan to develop the area.
Source: https://www.bangkokpost.com/thailand/general/2035283/protesters-celebrate-as-govt-halts-chana-plan