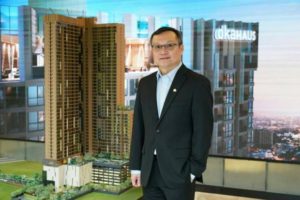 Property company Sansiri's fully booked projects show property demand in Thailand's tourism provinces still high
Property company Sansiri (SIRI) says demand for properties in Thailand's tourism provinces remains high, after its "1517 NIMMAN" project sold out within three weeks of opening.
Uthai Uthaisangsuk, SIRI chief operating officer, explained that the mixed project comprises business and residential units nestled amid Chiang Mai's trendy Nimman business district and shopping zone.
He said the sold-out units were a strong sign that tourism and the economy are recovering in the northern province.
The roaring success of 1517 NIMMAN comes after two Sansiri condominiums in Chiang Mai – D condo Rin and D condo Ping – sold out in the past year.
As well as Chiang Mai, Sansiri also sees potential for growth in Phuket following the return of foreign tourists in the Sandbox scheme launched in the province on July 1.
Uthai said Sansiri has organised the promotion #โปรSAVEทั้งเกาะ (#save all the island) to showcase two projects – the Anasiri Paklok and Siri Place Airport Phuket.
Meanwhile, over 80 per cent of units at "The Base Central Phuket" condominium have already been transferred to their new owners, the chief operating officer added.
For safety and convenience during the Covid-19 situation, Sansiri has introduced a virtual sales gallery, online booking and booked private tours for those interested in its properties. Meanwhile, all of its staff have been vaccinated and the company is continuing to help people suffering Covid-19 impacts, Uthai said.
Source: https://www.nationthailand.com/business/40003961