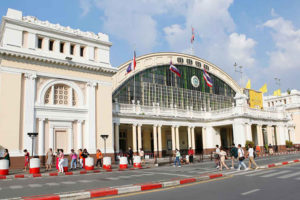 Prime Minister Prayut Chan-o-cha calls for hearings on the future plan for Bangkok's Hua Lamphong station
Prime Minister Prayut Chan-o-cha has asked the Transport Ministry to quickly organise hearings to gauge the public's opinion on the commercial development of Bangkok's Hua Lamphong station, which will be closed in about three weeks.
Government spokesman Thanakorn Wangboonkongchana said the prime minister was concerned about the impact of the station's closure, so he asked all agencies concerned to plan carefully for the sake of the public.
The State Railway of Thailand (SRT) will expedite the hearings, the results of which will be taken into account to minimise disruptions to people's lives, Mr Thanakorn said.
The spokesman said the SRT has assured the station's historic facade will be kept intact while the building is redeveloped for commercial purposes.
The redevelopment, he said, is expected to bring in 800 billion baht over the next 30 years for the SRT.
"In the first five years, the SRT is expected to gain five billion baht per year. From the fifth year onward, the figure will rise to about 10 billion baht per year, which will be enough to ease the SRT's debt burden," he said.
The plan to develop Hua Lamphong station for commercial use is part of the debt-ridden SRT's effort to return to profitability. While some parts of the station will be commercially developed, the historic facade will be retained, with plans to turn the atrium into a museum or learning centre.
The planned closure and redevelopment of Hua Lamphong sparked concerns among commuters and academics alike, with the SRT's own labour union launching an online campaign to petition the Transport Ministry to keep the station open.
Hua Lamphong station, which has served as the city's main rail hub for 105 years, is scheduled for decommissioning in late December.
An SRT source said rail services there will cease on Dec 23.
Source: https://www.bangkokpost.com/thailand/general/2223763/pm-calls-for-hearings-on-station-plan